Research
My Home Life England was founded on evidence and research and this continues to be an important part of what we do.
Our frameworks
We are informed by a robust evidence-base for quality in care services and our work is based around four frameworks: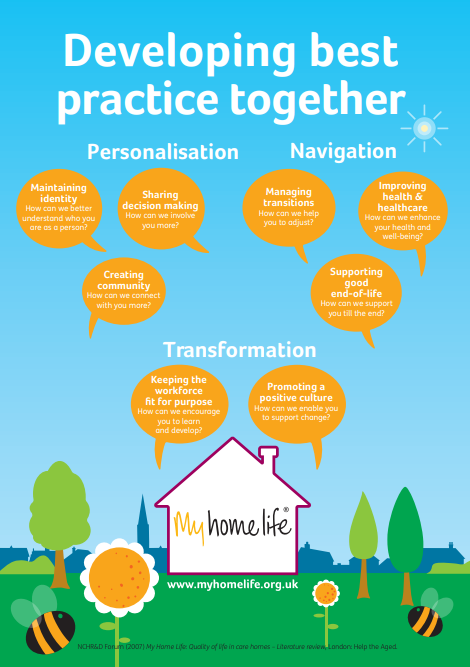 Developing best practice together
Developing best practice together reflects all the evidence My Home Life has gathered that sits behind our work in promoting quality of life in care homes. In 2006 a group of academic researchers sat down with members of the care home sector and looked at the research that had been undertaken around care home practice, what matters to people living and working in care homes and what good practice looks. The evidence clustered around 8 best practice themes:
Personalisation – how the care home supports people to feel seen, heard, involved and connected.
Navigation – the great work care homes do to support people to navigate changes, including moving into the home, healthcare and end-of-life care.
Transformation – the work leaders do to transform the culture of a home so that is promotes quality of life
Importantly, these themes have come directly from those in the care sector.
Reference – (NCHR&D Forum (2007) My Home Life: Quality of life in care homes – Literature review, London: Help the Aged. This review is being constantly updated).
Focussing on relationships
The My Home Life Vision is underpinned by Relationship-Centred Care and the Senses Framework, which is a framework for improving care for older people through promoting positive relationships.
It highlights the importance of not only meeting the needs of people who use services, but also addressing the needs of relatives/friends who visit and staff who work in care settings. it recognises that the quality of life of everyone involved in the care experience is crucial to improvements in practice. To achieve good relationships and quality of life for all in this context, it suggests that we need to consider what gives each individual a sense of security (feel safe), belonging (feel part of things), continuity (make connections between past, present and future), purpose (have goals), achievement (moving towards their goals) and significance (matter as a person).
Paying attention to these senses can help us identify the individual needs and personal outcomes people who use services, their support circle and staff. At My Home Life England we use the Senses Framework to help make visible the contribution that staff, people who use services and support circles can make to the creation of a caring environment; we emphasise reciprocity and the need to create a care culture in which all participants are meaningfully involved.
Reference – Nolan, M., Brown, J., Davies, S., Nolan, J. and J. Keady. (2006). The Senses Framework: Improving care for older people through a relationship-centred approach. University of Sheffield. ISBN 1-902411-44-7.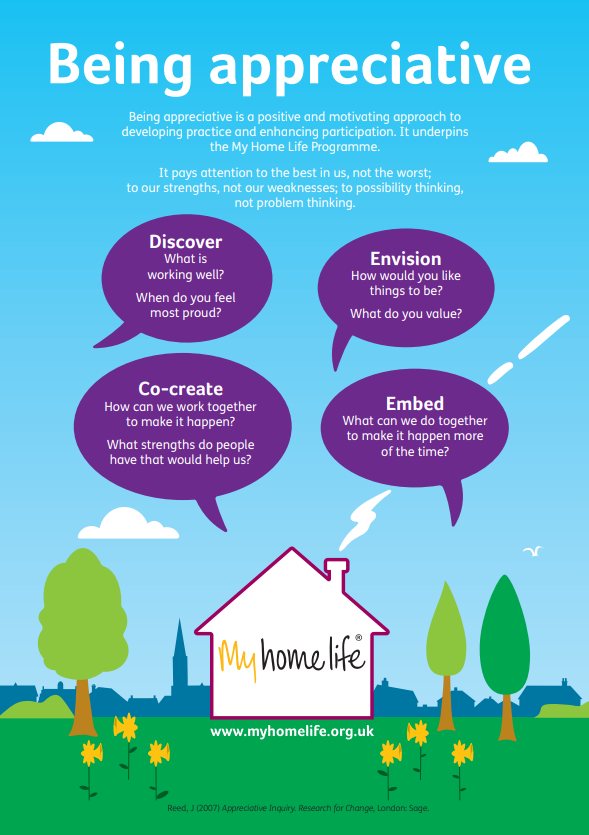 Being appreciative
This is a positive, motivating and collaborative approach to developing practice and enhancing participation. It focuses on strengths, rather than weaknesses.
The principles of Appreciative Inquiry include:
• What we believe to be true determines what we do
• How we talk influences how we and others act
• Storytelling is a key part of everyday life
• What we do today is guided by our image of the future
• Change is fostered through having positive relationships
At My Home Life England we have found that these principles are equally applicable, whether taking forward a large-scale development or working with individuals in the moment. The notion of being 'appreciative' has sometimes been misunderstood as deflecting attention from difficulties or harsh realities. This is not the case. Instead it works with people's values, respecting hidden stories of experience and personal narratives, demonstrating a sensitivity to feelings. As a process for supporting development, it can be transformational through establishing trust, authentic connection and a different quality of learning. The approach can be used to explore and develop a wide range of topics. The approach is also used to shape our everyday interventions and practice.
Reference – Reed, J (2007) Appreciative Inquiry. Research for Change, London: Sage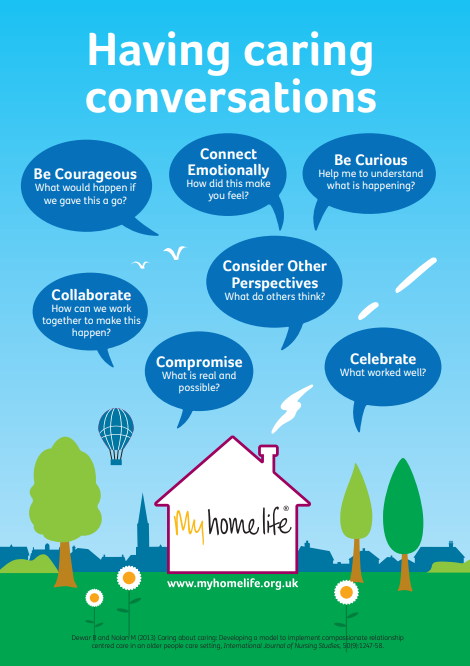 Having caring conversations
Developing best practice together, focusing on relationships and being appreciative depends on meaningful dialogue and interaction. The Caring Conversations framework (Dewar & Nolan, 2013) enables this to happen by enhancing the way we engage with each other.
The framework suggests that, in order to deliver compassionate and dignified care, people need to Be Courageous, Celebrate, Connect Emotionally, Be Curious, Collaborate, Consider Other Perspectives, and Compromise.
Within My Home Life England we have found that the framework helps to encourage and sustain genuine curiosity for ourselves and others, deepen inquiry, explore values, articulate tacit knowledge, and acknowledge and express emotion without dispute or judgement. It also supports a different attitude to risk-taking and devising new approaches to problems. Ultimately, it enables people to acknowledge achievements, encourage better listening and so make room for more contributions to enhance quality of life for all.
Reference – Dewar B and Nolan M (2013) Caring about caring: Developing a model to implement compassionate relationship centred care in an older people care setting, International Journal of Nursing Studies, 50(9):1247-58
More underpinning research
You can read more about the research that underpins our work in the "research and evidence base" section of our resources library, including literature reviews, research briefings and further research from the Joseph Rowntree Foundation.
Evaluation of our Leadership Support Programme
In 2021 we undertook an evaluation of the qualitative outcomes of our My Home Life England Leadership support programme.
This report summarises the collective findings from My Home Life England's Leadership Support Programme, providing a summary of a thematic analysis of 45 local reports to describe the impact of 45 interventions across different parts of England.
It concludes that:
Care home managers work in a mentally, physically, and emotionally demanding role which often leaves them feeling overburdened with a multitude of different responsibilities.
By participating in My Home Life England's Leadership Support Programme, managers were able to share their challenges, feel supported, and ultimately, to learn a variety of tools, skills, and strategies that impacted not only the managers, the care home staff, and the culture of the care home itself, but also the people living in the home, families, and successful operation of the homes.
Read the full report here: MHL England Leadership Support programme evaluation 2021
Reduced pressure on the NHS
In a study of 42 homes supported by My Home Life England, the following was noted:
14% decrease in ambulance call-outs
16% decrease in ambulance conveyances
9% decrease in Accident and Emergency admissions
5% decrease in non-elective admissions to hospital
Care homes not working with My Home Life England experienced an increase in all four metrics.
Data was compared with the previous two years.
We'd love to hear from you - Contact us today