Our approach to human rights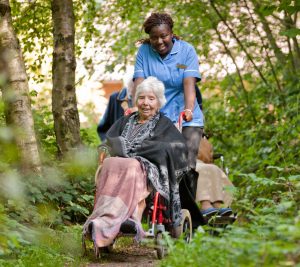 At My Home Life England, we have the privilege of connecting with many different people from communities across England who are living, visiting and working in care homes and other care settings.
We know that inequalities continue to exist across all parts of society, including in these settings. Through our work we regularly see the impact inequalities have on those who use and work and commission social care services as public organisations or individual citizens.
Human Rights are the rights and freedoms that every human being holds, irrespective of protected characteristics, and we continually ask ourselves how we actively promote Human Rights, equality, diversity and inclusion in everything we do.
Human Rights underpin the vision and principles of the My Home Life movement and, as part of City, University of London, we value and support their active approach taken to equality, diversity and inclusion, including the associated strategy published in 2020.
The equality, diversity, inclusion and human rights of people in all communities should be respected, protected and constantly considered, and it's important to us that we highlight and talk openly about how discrimination arising from protected characteristics affects people who live, work in and visit care homes and other care settings.
Through our work we support people to reflect and think about best practice in relation to Human Rights, whilst continuing to develop our own understanding, using the principles of FREDA:
Fairness
Respect
Equality
Dignity
Autonomy
We embed these FREDA principles across all our activities: in the courses we run, in the research we do and in the social action we promote and champion. We know that these principles come alive through relationship-centred practice, high quality human interactions and in how we treat one another. Through this we can create a sense of security, belonging, purpose, achievement, continuity and significance.
In addition, we commit to reflecting equality, diversity and inclusion and human rights in our work, including in how we develop and conduct research.
This commitment includes, but is not limited to, using representative imagery, being guided by those we work with on appropriate language and ensuring that our work is relevant to, reaches and supports people from a range of backgrounds, representative of those living and working in care homes and care settings. To achieve this, we continually invite those we work alongside to share examples of positive practice and personal experiences and these insights continuously shape our work. We also compare the ethnicity data of our programme participants (when known) to national ethnicity data of the adult social care workforce.
As always, we invite people to share with us their thoughts with us at mhl@city.ac.uk.