My Home Life principles are underpinned by an evidence base. Thousands of care home practitioners are now using this vision for quality of life to support their practice.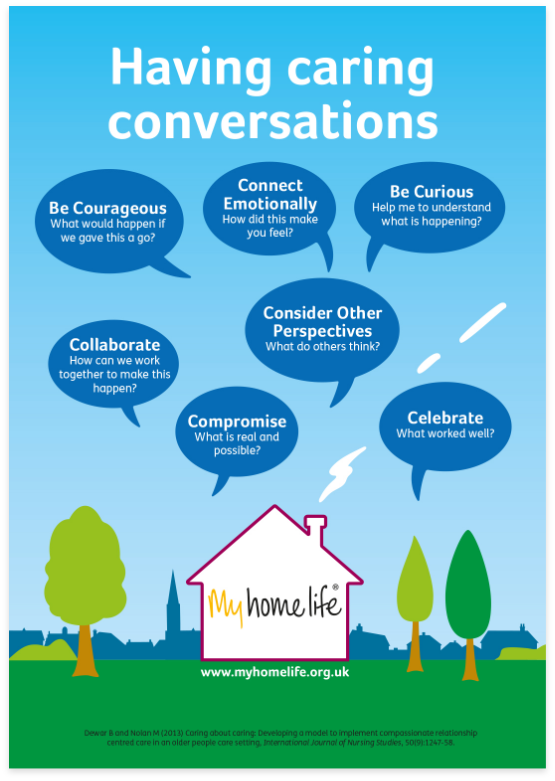 Having caring conversations
Developing best practice together, focusing on relationships and being appreciative depends on meaningful dialogue and interaction. The Caring Conversations framework (Dewar & Nolan, 2013) enables this to happen by enhancing the way we engage with each other. The framework suggests that, in order to deliver compassionate and dignified care, people need to Be Courageous, Celebrate, Connect Emotionally, Be Curious, Collaborate, Consider Other Perspectives, and Compromise. Within My Home Life we have found that the framework helps to encourage and sustain genuine curiosity for ourselves and others, deepen inquiry, explore values, articulate tacit knowledge, and acknowledge and express emotion without dispute or judgement. It also supports a different attitude to risk-taking and devising new approaches to problems. Ultimately, it enables people to acknowledge achievements, encourage better listening and so make room for more contributions to enhance quality of life for all.
Reference
Dewar B and Nolan M (2013) Caring about caring: Developing a model to implement compassionate relationship centred care in an older people care setting, International Journal of Nursing Studies, 50(9):1247-58.