An update on our Intergenerational Linking project for Intergenerational Week
This week we've been supporting National Intergenerational Week, celebrating the moments and opportunities where different age groups come together and intergenerational friendships are made.
Our intergenerational project Care Home Friends and Neighbours: Intergenerational Linking is linking young people aged 5-14 from schools and youth groups with older people living in care homes.
So far, so much great work has happened and lovely connections have been made in our first two projects, despite difficulties posed by the pandemic:
Alive, Bristol

Alive's Intergenerational Linking project started in August 2020 and is based across East and South Bristol. They are linking Bristol young people, including those from local youth groups, with older people living in care homes. A key focus of this work is to promote social action across the generations, empowering both younger and older people to have a positive impact on their environment and the community.
Alive's project is using the idea of #OneGoodTurn and has been successfully forging new connections through the pandemic, despite all the difficulties posed by COVID-19, by inviting participants to perform 'good turns' for each other and boost each other's wellbeing.

Over the festive period they ran a "Jars of Joy" initiative to share hope and kindness and to demonstrate solidarity with older people living in care homes and show that the community was thinking of them.
Both younger and older people filled jars with poems, jokes, treats, decorations and artwork, before sending them off to others across the city. In total 179 jars were exchanged across the generations to postcodes all over Bristol!
Some people living in care homes also chose to make wellbeing boxes and hampers to take to the local foodbank. From there they went to pupils and families at a nearby school and were very appreciated.
At the start of 2021 the project began a focus on intergenerational resolutions. New participants and those already involved were invited to pair together across the generations to pledge their 'one good turns' for 2021. The pandemic and repeated lockdowns have demonstrated the importance of community connection and solidarity more than ever, and Alive hope to focus on more intergenerational activities and positive acts this year that are collaborative and involve giving back to one another.
As well as this, younger and older people have been making use of digital platforms to share photos, messages and videos with one another in a safe way.
Watch this beautiful video of Begbrook Primary connecting with MHA Hartcliffe Nursing Home through singing and artwork!
The Linking Network, Bradford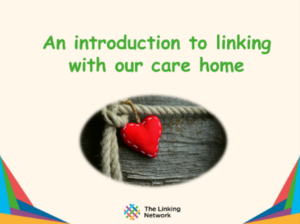 The Linking Network's project in Bradford started in July 2020, pairing schools and youth groups with local care homes and supporting participants to 'share their story' with each other.
In the Autumn Term, staff from the linked school and care home came together in a virtual meeting to find out more about each other and to plan the first phase of the link.
Back in the classroom, teachers introduced the project to their classes. To support this, The Linking Network created resources for teachers to help children explore what a care home is and who might live and work there.
Children then thought carefully about their own identity and stories before creating cards and messages to introduce themselves to the people living in their linked care home.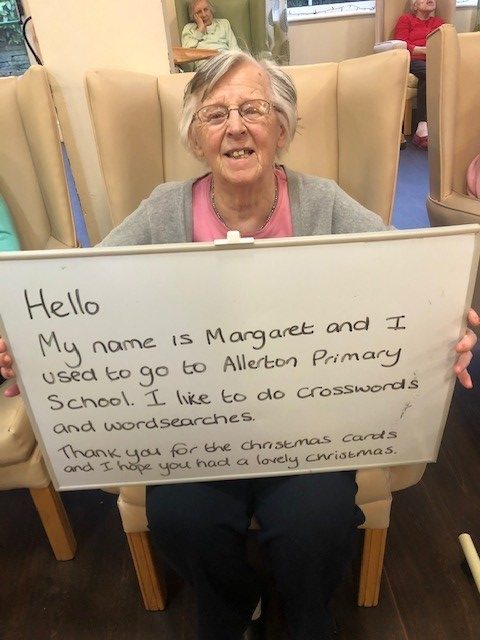 Care home staff also supported the residents living in the care home to send their own messages to the children at the linked school.
Children were excited to find out the stories of each of the residents they now had a connection to and have loved receiving messages back – for example from Willow Bank Care Home who sent through a lovely series of photo messages to their linked school as a way of introducing themselves. One class were amazed to learn that Margaret went to the same school as them when she was a child!
Many of the links have continued throughout the challenges posed by lockdowns and home schooling, including exchanges of Christmas cards and beautiful artwork.
As children and young people begin to find out more about the residents of their linked care home, they will be encouraged to take ownership of the next activities in the project.
Watch The Linking Network's progress in Intergenerational Linking so far:
New grantees
We are thrilled that 9 more organisations have received a grant from The Dunhill Medical Trust to create a new Intergenerational Linking project in their local area, connecting care homes to local schools and youth groups. The new grantees are:
Curriculum and Language Access Service, Bury

Enfield Town Schools' Partnership

Global Education Derby

Leeds Development Education Centre

Plymouth Diocese

Sensory Trust, Cornwall

St Philip's Centre, Leicester

Windmills Foundation, Sefton

Woven Nest Theatre, Newcastle
We are very excited for this next stage of the project! You can read more about these organisations and the project here.
National Advisory Group
We are currently looking for new members to join our current National Advisory group for this project. The Advisory Group meets a few times a year and helps to guide and support the work of the national project team. We particularly wish to focus on stronger representation from currently underrepresented groups. See more information here.
Funding
This project is funded through the #iwill Fund. The #iwill fund supports the #iwill campaign, which aims to make involvement in social action a part of life for a many young people as possible, by recognising the benefit for both young people and their communities. The National Lottery Community Fund and the Department of Digital, Culture, Media & Sport are each investing £25 million seed funding to create the #iwill Fund.
The Dunhill Medical Trust is acting as a match funder and awarding grants on behalf of the #iwill Fund. We are so grateful for their support.