The Linking Network reach 29 intergenerational links!
The Linking Network (TLN) in Bradford was one of the first two organisations to take part in Care Home Friends and Neighbours: Intergenerational Linking (alongside Alive Activities in Bristol), creating intergenerational links between schools, youth groups and care homes.
Now two years later they have established 29 intergenerational links.
What a huge achievement!
Over the last two years children have shared letters, postcards, questions, artwork, puzzles, stories, poems and so much more to build friendships with their care home friends. For much of the time these friendships have had to be built without face-to-face contact due to the pandemic, but the wonderful creativity and energy of teachers and care home staff alike have ensured meaningful relationships have still been created.
Lots of schools have shared artwork with their care home friends. A lovely shared piece has been 'Trees of Togetherness' – children and older people have written information about themselves on leaves which are now displayed on trees in both the school and home.
Beckfoot Allerton Primary School and Willowbank Care Home have played bingo together over zoom and pupils made kindness packs including puzzles, cards and small gifts for residents who were isolating.
Y6 pupil Zakriya said: "I feel overjoyed because we made wordsearches for the older people and that makes me feel nice".
Meanwhile Feversham Primary and Mill Lodge care home painted half a butterfly each, which they then swapped so that the other half could be finished by their care home friend or younger friend.
In recent months some face-to-face meetings have taken place, deepening friendships and creating special moments for everyone involved. Clayton Village Primary and The Avenue Care Home enjoyed a May Day parade and Morris Dancers together in the local park, with families also taking part. The older people shared a poster of their handprints decorated with words about themselves which children are busy responding to back at school.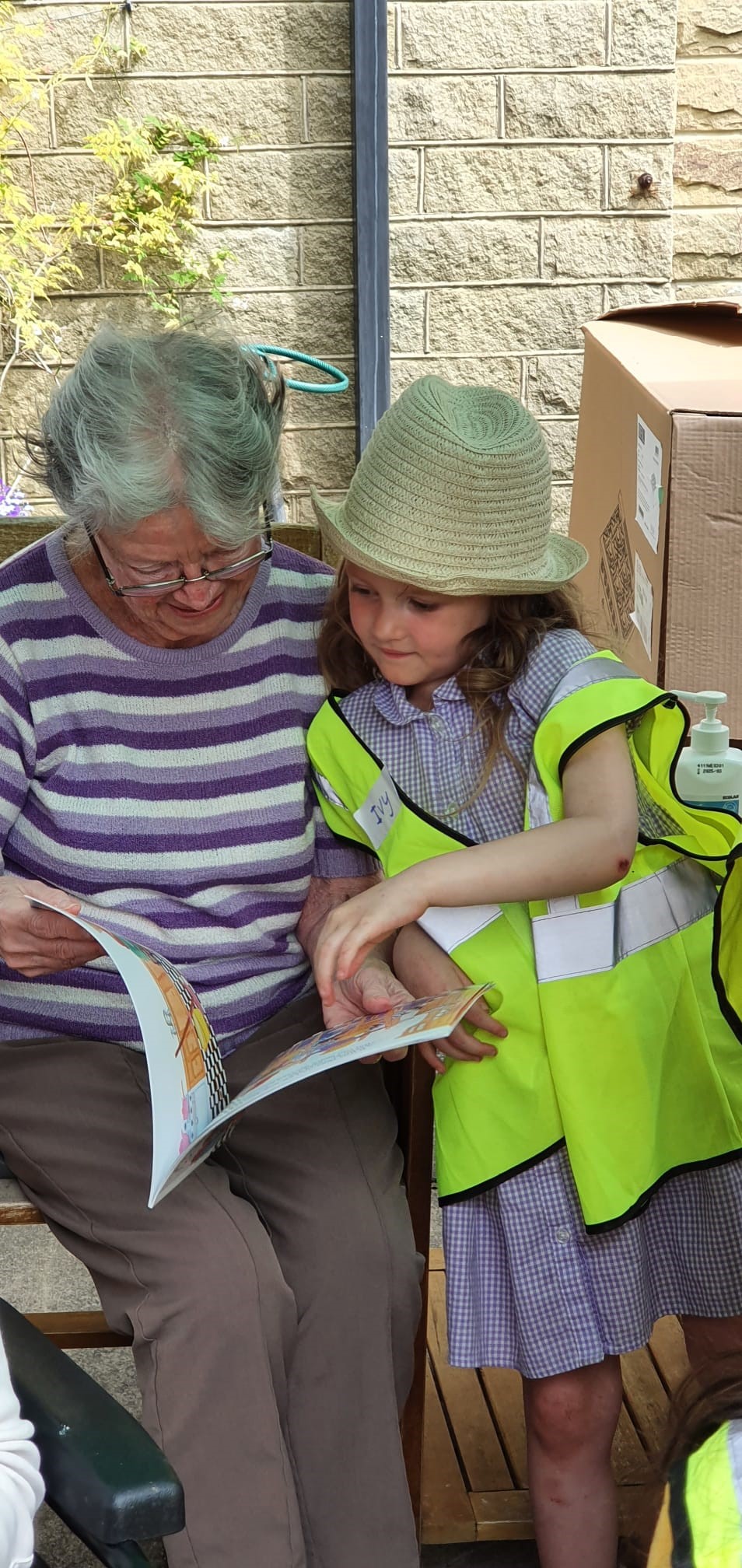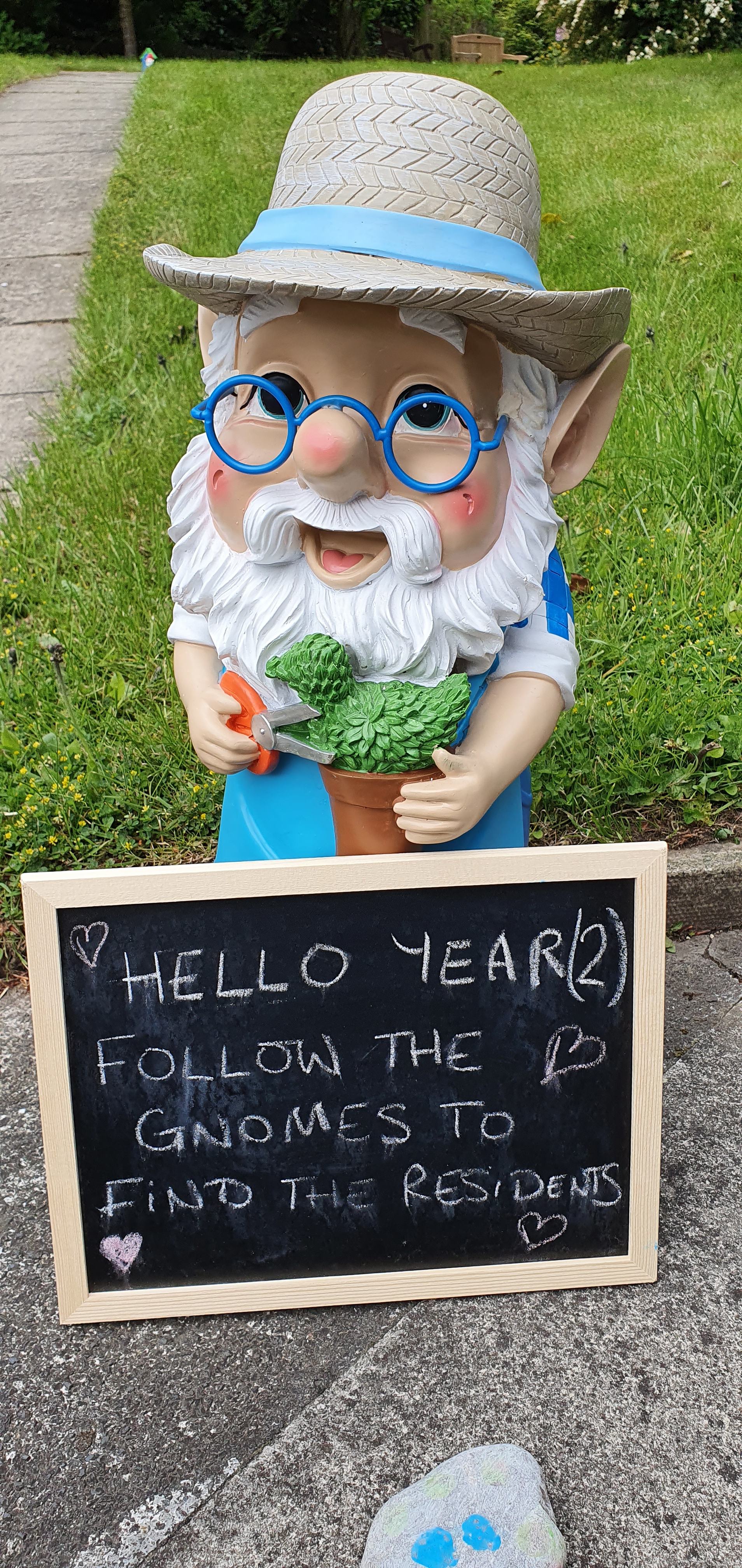 Beckfoot Priesthorpe (Y2) and Bingley Wingfield Care Home have also established a link and recently enjoyed a Jubilee picnic together in the grounds of the care home.
Bingley Wingfield were so welcoming to the children, creating a gnome trail for children to follow and make their way round to the gazebo in the garden where residents were awaiting them. They enjoyed food and singing with a joyful finale of a rendition of the national anthem together. What a memorable afternoon for the children and older people!
Park Aspire children have been helping out with weeding in Ormond House gardens. They also enjoyed a Jubilee lunch at school together. Residents were able to visit thanks to the school minibus and then tucked into delicious quiches and cakes made by the children themselves.
Children were keen to talk to the residents again who they'd previously spoken to during their gardening work. Older people also took home food hampers for those back at Ormond House who had been unable to attend.
Intergenerational Linking now forms part of TLN's core work. The aim is that schools will take part in Schools Linking in one year group and then Intergenerational Linking in another, thus creating a complete approach to community cohesion.
TLN now look to widen the intergenerational linking offer in Bradford, engaging with schools, youth groups, care homes, sheltered accommodation and older people's community groups.
TLN aim to continue to develop its knowledge about intergenerational best practice, liaising with other organisations to share expertise.
Linda Cowie, Co-Director of The Linking Network says:
"Our vision is of every school having a long term relationship with an older people's group or care home, helping children build the vital skills of reaching out to others and learning from older people.'
Watch a video about the project below:
Care Home FaNs: Intergenerational Linking is funded through the #iwill Fund. The #iwill Fund is made possible thanks to £54 million joint investment from The National Lottery Community Fund and the Department of Digital, Culture, Media & Sport (DCMS) to support young people to access high quality social action opportunities. The Dunhill Medical Trust is acting as a match funder for this project and awarding grants on behalf of the #iwill Fund. The Linking Network previously received funding from the #iwill Fund and The Dunhill Medical Trust until Spring 2022.