MHLE reflection on CQC published data showing the death notifications involving COVID-19 received from care homes
On 21st July 2021, the Care Quality Commission (CQC) published data showing the death notifications involving COVID-19 received from individual care homes between 10 April 2020 and 31 March 2021.
Kate Terroni, CQC's Chief Inspector for Adult Social Care, said:

"In considering this data it is important to remember that every number represents a life lost – and families, friends and those who cared for them who are having to face the sadness and consequences of their death.

"… In [publishing this data], we aim to provide a more comprehensive picture of the impact of COVID-19 on care homes, the people living in them and their families. It is important to be clear, however, that although this data relates to deaths of people who were care home residents, many of them did not die in or contract COVID-19 in a care home.

"As we publish this data, we ask for consideration and respect to be shown to people living in care homes, to families who have been affected, and to the staff who have done everything they could, in incredibly difficult circumstances, to look after those in their care."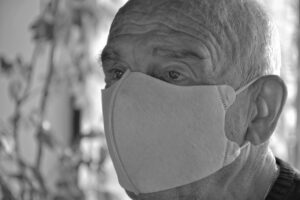 At My Home Life England we echo this statement that care home staff worked exceptionally hard in extraordinarily challenging circumstances to care for those living in care homes during the pandemic.
We share the following reflection:
A care home manager, said:

"We witnessed the residents who we love, die. It was shocking. Some of us wept like babies. These residents were our family who we loved. The experience feels very difficult to process, it is still very real for us."
Over the past 16 months, My Home Life England has contacted hundreds of care home managers by phone and Zoom, providing them with space to download, talk and manage the extraordinary pressures upon them. More recently, we have been working with care teams to help them process what has happened and to rebuild. We have been bowled over by the heroic efforts, the passion and the commitment of care staff. They put aside their own worries and put first people living in care homes, families, partners, friends and each other.
Some worked 7 days a week, came in on their days off, slept at the home or moved away from their family. They spoke of how they had grown together "into a family" during the pandemic. Their deep connection with residents helped them identify when people were symptomatic and attend to those that were dying or were frightened of PPE with such skill, attention and thought.
Care teams have brave hearts and have done the best that they could, often with extremely limited support, particularly at the beginning of the pandemic. Alongside the loss felt strongly by family members, partners, friends and fellow residents, a moment should be spared to also acknowledge the loss felt by staff, who saw these people as their own family. The impact on them has been very real and continues to this day.
My Home Life England