Precious moments of connection: Our thoughts on the last 12 months
"We pulled people together. Communicating between families and residents. Dancing! I worked 15-16 days in a row, 18 hours a day. My motivation? – it needed to be done."
This is a typical response from the many managers that we at My Home Life England have been supporting over the past 12 months through our bespoke programmes. We've been providing a listening ear, allowing people time to be real and honest about what is working and what could be better. We've been offering a few tools and techniques to help people get through and to strengthen their teams. It's what we have always done and through the pandemic it has never seemed more needed.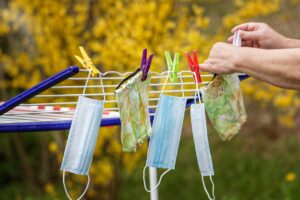 For some homes who haven't experienced an outbreak yet, they talk about holding their breath, wondering if it will come. They talk of feeling slightly guilty that they have been let off; feeling exhausted, anticipating what lies ahead.
While the problems have to be acknowledged, My Home Life England is here to help managers and team leaders spot the great things happening in their care homes, and to celebrate and build upon them. We have the privilege too of hearing about precious moments of connection. Managers speak of the touching moments they experience every day, such as staff members assuring relatives that they speak about them often, to help keep them present in the mind of their mother or father. Managers also talk of the huge sacrifices that staff have made. They have worked endless days without a rest. Some have even said goodbye to their own families to keep them safe.
In our programmes and groups, managers share how their skills have developed, but they also worry about what might happen when this is all over and they stop. It's the simple things they're doing that seem to be helping currently. Things like bringing in chocolates and house plants, printing out worksheets for staff who are home schooling, having more flexible rotas and being serious about taking annual leave. There's an emphasis on keeping the fun things happening, like "Snapchat Friday" or bringing in caterpillars for people who live and work in the home to watch.
Like many people, we at My Home Life England are concerned about how many managers will have drained their personal resilience batteries. Without changing our principles and approach, we are putting an emphasis on well-being and resilience in all the programmes we run now.
Care homes have always been good at dealing with crises and expertly juggling priorities. Many had considerable experience of managing infections before COVID-19 came along. Care home leaders are compassionate people that give everything, with amazing skill. They keep their teams well and resilient, support families, and put the wellbeing of people living and working in care homes at the centre of what they do.
Whatever the future holds, it is a privilege to work alongside care home leaders during this time of huge change and we at My Home Life England continue to adapt and develop our programmes and ways of working in response.
My Home Life England Team
This article originally appeared in Care England's newsletter Care Agenda in March 2021