Care Home Friends and Neighbours
Care Home Friends and Neighbours (Care Home FaNs) is our national programme supporting care homes to connect meaningfully with their local community, and vice versa, to enhance the quality of life for people who live in care homes and those that support them.
Our premise is simple: People living in care homes are members of our local communities and deserve the same support and friendship that we might offer to other people living on our street.
Through Care Home FaNs, care homes widen their support circles and create connections to people, places and passions. This sense of connection and purpose brings positivity, particularly to those who might be experiencing loneliness and isolation, and it enhances health and wellbeing. Feeling part of the community is very much key to quality of life for people living in care homes, as well as those working in care homes and visiting them.
Creating community connections also has reciprocal benefits. It creates volunteering opportunities within local communities and gives communities the opportunity to enjoy and value their older people. It has also been shown to influence public opinion of care homes and the people who live and work there, as well as other benefits such as broadened understanding of topics including dementia and ageing.
We celebrate the community engagement efforts care homes make to involve all sectors of society – individuals, organisations, schools, youth groups, businesses and more.
Many care homes have already successfully created strong links with their local community, whether through recruitment of volunteers or through building connections with particular organisations. For example, relationships with local schools can be quite common, but are often confined to one or two special events a year.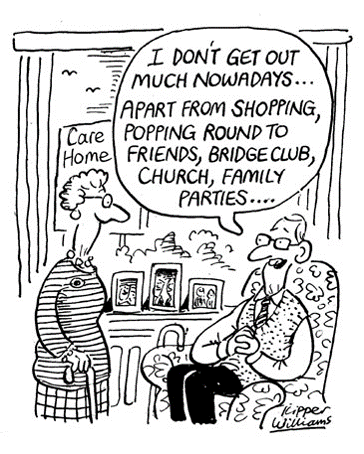 We have developed significant learning about what works well in community engagement in care homes. Our wide range of Care Home FaNs materials are evidence-based and support care homes to nurture and strengthen pre-existing community connections, form completely new connections, and start completely from the beginning. Whatever stage you are at with community engagement, Care Home FaNs can support you!
History
Care Home Friends and Neighbours originally developed in partnership with the National Activity Providers Association (NAPA), working initially with 9 local organisations throughout the UK and learning from a concept developed by My Home Life Essex Community Association. 
Today
Collaboration and partnership remains key to the Care Home FaNs programme.
In partnership with The Linking Network, we are currently delivering England's largest intergenerational project – Care Home FaNs: Intergenerational Linking – and together we're supporting 11 community organisations and charities to create a network of intergenerational connections between schools, youth groups and care homes in their local area.
We also deliver support and development programmes within Care Home FaNs, supporting homes to develop their community connections. 
We'd love to hear from you - Contact us today