Care home WhatsApp initiative supported by My Home Life Charity wins Nursing Times Award
As a response to Covid-19, My Home Life Charity supported colleagues in Nottingham to develop a WhatsApp peer-to-peer support group for care homes during the first wave of COVID-19 that quickly went national.
We are thrilled to share that this initiative won the 'Care of Older People' category at the 2020 Nursing Times Awards!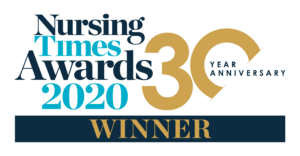 The WhatsApp peer-to-peer support group provided care home managers with practical and emotional support at a time of huge challenge. The group also included individuals from the wider system who had the national expertise and local practice knowledge to help practitioners through the uncertainty, the complexity and the array of sometimes conflicting guidance that care homes were receiving in this difficult time.
The group was formed on the 17th March. It grew to 257 members in a fortnight, with other supportive networks also forming.
The result of the 'Care of Older People' category was announced by Hilda Hayo, CEO of Dementia UK, who said:
"The judges thought this was an innovative project that shone a light on the very neglected area over the COVID-19 pandemic. The judges were particularly impressed by the fact this was an initiative set up internally by staff, rather than an external source. It came from within, rather than from without. They said that the staff identified a problem and addressed it quickly. It was great to see it came from people who know. It was a very positive outcome from COVID-19 and brought together organisations, which wouldn't have happened otherwise."
Anita Astle MBE, Managing Director of Wren Hall Nursing Home in Nottingham, accepted the award on behalf of all involved and said "I'm absolutely delighted for everybody […] thank you so much, this means such a lot to us all".
My Home Life promotes quality of life in care homes for older people. Whilst the Rayne Foundation kindly funded the development of the WhatsApp Group, the money is still being used as most people gave their time for free, including researchers from several other universities.
Congratulations to all involved behind the scenes and at the forefront of practice who made such a difference in a challenging time.