Sue Ann's evidence to Health and Social Care Select Committee
Sue Ann Balcombe, manager of Priscilla Wakefield House Nursing Home, North London, gave powerful evidence to the Health and Social Care Select Committee on 23rd June 2020, chaired by Jeremy Hunt.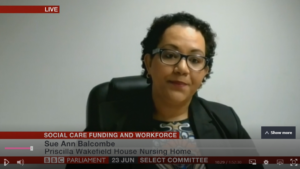 The Select Committee was focusing on the social care system and the pressures facing the social care workforce. Sue Ann gave her evidence to the committee alongside another registered manager, a social care worker and Chief Executives from organisations within social care.
Sue Ann is part of the My Home Life movement, having previously participated in the My Home Life Leadership and Development programme.
Sue Ann spoke on a wide range of topics, including:
The extensive knowledge and skills that care staff have and the need to recognise and respect this, comparable to that already given to NHS counterparts and colleagues
The extremely diverse and competent role of a registered manager and the need for managers to have access to a support and coaching network of other registered managers
That pay within the care sector does not reflect the responsibility of healthcare assistants and the value they give
The lack of testing available to care homes during COVID-19 and the issues this posed, including when determining cause of death of residents
The incredible impact that care staff have on those that they are caring for and their passion for the job that they perform from the heart
The overall need of recognition for care homes, and to be seen as equals to NHS counterparts and colleagues
You can watch the full programme here (Source: BBC Parliament)