Stylish scrubs showcased in 'Scrubbers' Fashion Show!
The wonderful teams at The Old Vicarage in Bolton and Whitefield House in Bury have shared with us two fantastic videos showing their recent 'Scrubbers' Fashion Show and examples of Community Engagement initiatives both before and during COVID-19.
We heard the stories behind the videos and how COVID-19 has led them to adapt: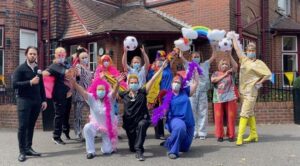 "We've always been quite forward thinking, we love doing things", says Gabrielle MacDonald, Owner/Manager at MacDonald Care and graduate of the My Home Life (MHL) Development programme. "When lockdown came, we needed scrubs that were comfier and could be washed on site. A friend of mine kindly offered to make them. We had curtains and other fabric initially. Then one of the care assistants at Whitefield House who is a big Manchester United fan asked whether she could have Man U scrubs… and it just went from there!
We bought accessories to go with them and held our 'Scrubbers' Fashion Show, with a few special celebrity guests! The Manchester Bee is very special to a lot of people here, along with football. It made everything really fun and brought a lot of joy to the residents and the staff team.
We put it on Instagram which is great for staff engagement. We've started TikToks too and the grandchildren love it – it gives them something new to talk about with their grandparents that live here. We've now got plans for some Christmas scrubs too!"
It's great to see how the teams made wearing scrubs more enjoyable for both staff and residents, and used personal touches to showcase different personalities. This wonderful video edited by Gabrielle's daughter, Claudia, Registered Manger at the Old Vicarage, features the Scrubbers Fashion Show highlights:
Gabrielle also explained to My Home Life England how activities and engagement with the community were adapted during lockdown:
"We are very sociable with our community here. We have a real focus on bringing the community in and we have a lot of active residents in both homes who want to be a part of the community.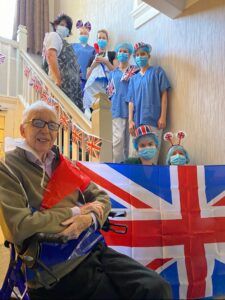 We spent a good few years building up our community connections, only to see them start to evaporate right in front of us when the March lockdown happened. Like all care homes, we had to have a rethink. We needed to find new ways to ensure that the connections with our local community were still maintained and activities could continue safely.
Clubs went virtual and reached back out to us – that made a big difference. The Woodland Trust who we used to connect with sent us activity sheets and we bought things for our garden so that we could do our nature walks here instead and continue to spot things. We bought peacocks statues via Amazon and put things on trees and explored our surroundings together. We're lucky to have a big garden so by the time you've walked round it, you really feel like you've been somewhere. It's a mental health boost too. It's been really positive and enjoyable. We're planning on getting hedgehogs soon!"
Gabrielle and her team also continued with a range of activities alongside video-calls to family members and marking celebrations such as VE Day.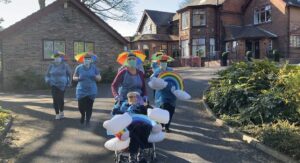 They even experienced a touch of national fame, featuring in fellow Boltonian Peter Kay's recreation of Tony Christie's 'Is this the Way to Amarillo' video' for BBC's Big Night In!
Highlights of their many of their activities are captured on another video created by Claudia.
Gabrielle explained: "This video came about because we were asked to give a 30-minute presentation to the ADASS board about our community engagement before and through COVID-19 and we thought it might help cut down the time we had to speak! But it was actually amazing to do because until we made the videos we hadn't quite realised just how much we've done, and it isn't all covered in the videos either. It is so nice to see the highlights and remember everything we've managed to achieve, even when things have been tough."
We're sure the ADASS board were very impressed!
Quality of life and delivering high standards of relationship-centred care is evidently important to everyone in both homes and especially to owner Gabrielle, who originally trained as a nurse before taking the decision to convert their beautiful Victorian family home into a care home.
"Our homes have a country retreat feel but they aren't old fashioned – we have nice furniture, nice towels, fresh flowers. I want people to walk into their rooms and go "ahh". I tell staff to stand at the door once they've finished making up a room and ask if it looks like the room that they themselves would want to see.
When new people join our homes, we ask them 'what makes you rock and roll?' We ask questions to really get to know our residents and their interests. Whatever it is, we'll do try our best to make it happen. We run a variety of activities to suit different tastes, and of course some people don't want to do anything and that is also ok.
When I was on the MHL Development programme, the My Home Life postcards exercise taught me that, in the same way that we need to treat residents as individuals with their own preferences, own personalised care plans etc, we also need to do the same with our staff members. Some members of our team are quieter, and so I know that it's important to respond in a way that recognises that. It helps me to get the best from everyone."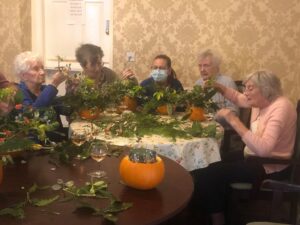 The pandemic has also led Gabrielle to discover hidden talents in the staff team, including flower arranging:
"Before lockdown we had a lady come in and teach flower arranging, with the help of one of our residents who used to be a florist. Now the staff are leading it too. Around Halloween we held a flower arranging session in pumpkins! We had wine and it was just lovely. We're going to do another one at Christmas."
Thank you to everyone at The Old Vicarage and Whitefield House for sharing these examples of your wonderful work with us, and for all that you do to deliver quality of life in your homes.