Sharing decision-making and listening to your community in renovation projects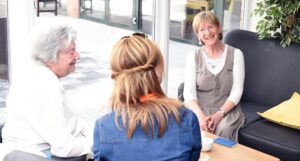 "I'm the Chief Operating Officer of The Fed– a social care charity which runs many community projects for people of all ages and large residential and nursing home for older people.
We took over the home in 2009 and it was clear that the building needed an upgrade.
It was a typical 1970's building, which had been through lots of small redevelopments over the years. The layout was confusing; there were long corridors and little choice for residents about where to spend their time. It was a particularly poor environment for people with dementia.
Early on we started to look at what we could change, and how.
We consulted residents, their families and the wider community, not only about the building, but residential care more broadly.
We identified some major concerns – the building was dark, dated and institutional – and we came up with a vision for a far superior care environment and a modern, welcoming communal hub.
We wanted to create a place that would attract visitors especially families. I've had personal experience of this having taken my daughter to visit my late Mum when she was in a nursing home where there was nowhere for my daughter to have fun and feel comfortable.
We commissioned plans from our architects. They were brilliant – making innovative use of the existing space, opening areas up and filling them with light. We succeeded in getting a £2m grant to kick-start our plans and that show of confidence helped us bring in additional donations towards the cost of the refurb.
Major changes included creating a large "Central Cafe", a state-of-the-art hairdressing salon, a brand spanking new shop, a beautiful airy atrium and a medical suite for our GP surgery and district nurse, physio and optician's appointments. We re-landscaped our gardens, bringing them right up to the doors of the building, making them easier and safer for residents to access independently – so crucial to people's wellbeing.
The cafe and outdoor sitting areas are used not only by our residents and their families and friends but also by people living locally, who now choose to come to the home to meet up for coffee or lunch. It's become a social hub with young mums coming in with babies which our residents love to see. It's not like an "old home" at all – it's a vibrant happy place.
And there have been some fantastic benefits that we didn't anticipate at all – when the sun's out staff take their breaks out on the enlarged patio or in the garden and chat to residents. In this way we've created an even more person-centred home.
Staff morale is higher because people appreciate working in such a lovely environment and occupancy has increased without advertising. Moreover, local people have become more interested in The Fed and what we do, so we're re-educating the community about all of our projects not only residential and nursing care.
We're having great fun and there's lots more to do (like applying for a bar licence!) I feel we've only scratched the surface of what we can do with our space."
Mark Cunningham is Chief Operating Officer at The Fed in Prestwich.