'Rebuilding Together' – Insights into how care homes coped during the pandemic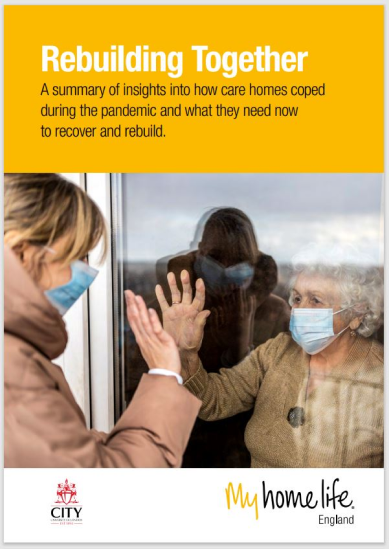 On the third anniversary of the first COVID-19 lockdown (23rd March 2020), My Home Life England shares new insights from care homes about their experiences of the pandemic.
'Rebuilding Together' is a report based upon conversations with over 200 people from 34 care homes across England.
It offers insight into what support care homes received during the pandemic which they felt was valuable, in order to inform future responses to crises. It also explores what support care homes need right now, knowing that the pandemic is still evident in many care homes, both in terms of COVID-19 infection and the long-term trauma that it has left behind.
Download the report
Report findings
Teamwork, loyalty, resilience, commitment and connection to one another were critical for people living and working in care homes throughout the COVID-19 pandemic. When support was absent, particularly at the beginning of the pandemic, this led to people feeling alone and sometimes very scared. Care home managers expressed a desire to be recognised, supported and appreciated (on par with NHS colleagues), and for guidance and policy to be clear, consistent and timely.
They also identified a desire to sustain some of the positive changes experienced during the pandemic, for example greater knowledge of IT systems, infection control procedures and different forms of communication with families and community links.
The report concludes that there is a vital need for care providers, the wider health and social care system and local communities to invest in the wellbeing of care teams, to actively engage in open conversations with people living and working in care homes and to explore what would help them now and into the future.
---
Oluwafunmilayo Vaughn, report author, said:

"This report offers the privilege of delving into the rich lived experience of those who were at the forefront of a devastating pandemic. It captures stories of tenacity and grace, giving us insight into how care homes coped amidst such difficult times. Finally, the report highlights some positive ways to support social care into the future. We are immensely grateful to all those who have contributed to the creation of this report."
Vic Rayner, OBE, said:

"The Covid-19 pandemic had a significant impact on the people living, working, visiting and dying in care homes. This report represents insights from people working in care homes across England at the time."
Tom Owen, Director of My Home Life England, said:

"At My Home Life England, we continually learn from the people we work with in the care sector. We are conscious that, for many, the emotional and physical impact of the pandemic remains, and that COVID-19 and its impact has not gone away. This report reminds us of the commitment, care, courage and connections that exist in care homes."
---
Oluwafunmilayo Vaughn is an associate of My Home Life England and has a research interest in frontline care staff, including developing and evaluating initiatives to improve wellbeing at work. Vic Rayner OBE is a widely respected expert in the field of care and has an honorary professorship at City, University of London. My Home Life England is part of City, University of London, based within the School of Health and Psychological Sciences.