Rainbow pony brings joy to Sweyne Court!
With COVID-19 limiting usual activities for the residents of Sweyne Court Care Home in Essex, Home Manager Hayley Gibbs decided to think outside the box.
Staff at Sweyne Court are already supporting residents to stay in touch with their loved ones via FaceTime and regular calls. But Hayley decided to add a surprise into the schedule, to keep spirits up and give both staff and residents a day to remember.
Hayley is the proud owner of Savannah, a 17-year-old pony she has had since Savannah was 5 months old.
Inspired by the symbol used to spread positivity in these difficult times, Hayley gave her horse a special rainbow makeover, and got her ready for her surprise trip to Sweyne Court…
Hayley said:
"Myself and the team wanted to bring some joy and happiness to the people who live here at this sad and challenging time; we wanted to spread the rainbow cheer!
"I always knew Savannah was an incredible pony, but on Friday she showed me just how remarkable she truly is. Savannah came in to Sweyne Court and gave everyone the best day she could, she brought the joy we all needed and helped to make many smiles, laughter, happy tears and great memories for those who live and work here!
"Some of the people we support shared their thoughts on the COVID-19 pandemic, saying 'In a lot of ways, it's worse than the war, at least you could still see your friends and families and touch them.'
"During such a challenging time for everyone not being able to see their families, seeing the joy that Savannah brought to the home was amazing and the photos of smiling and happy faces say it all!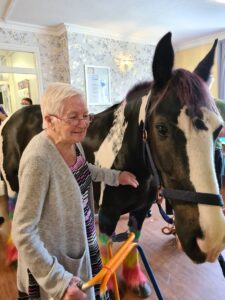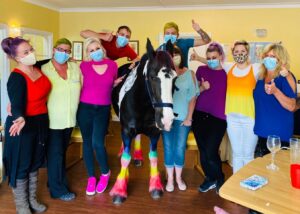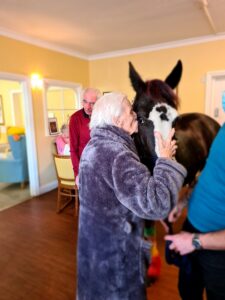 A huge thank you to Hayley and her team for sharing these beautiful photos with us, and for going above and beyond at this difficult time to bring joy to the residents of Sweyne Court.