My Home Life Bulletins for Care Home Staff
Between 2015-2019, My Home Life released a series of bulletins for care home staff, each focused on a different topic.
The bulletins are filled with real stories, practice ideas and top tips.
The 3 most recent bulletins from 2018-2019 are below.
This bulletin shares some of the benefits that engaging with the community can bring to your care home.
Download
Published May 2019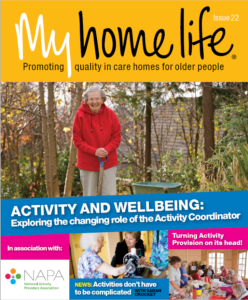 With the help of our friends at the National Activity Providers Association (NAPA), this bulletin explores the changing role of the Activity Coordinator, what we mean when we talk about activity provision, and what we can all do together to help make activities more meaningful in care homes.
Download
Published December 2018
In this issue we're remembering the importance of the 'little things' in life, that cost nothing but make the biggest difference.
Download
Published May 2018