Literature Review: Quality of life in care homes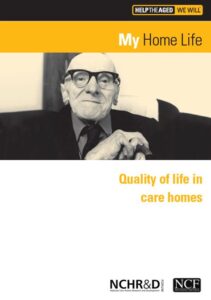 In 2007, Help the Aged commissioned the National Care Home Research and Development Forum to deliver this project as part of its policy work relating to improving quality of care for older people.
More specifically, the project relates to a proposed new programme of work (My Home Life) looking at the quality of life of older people who live in care homes.
The aims of the proposed new programme are to deliver accessible tools and information resources to care home managers, staff and commissioners which will be utilised within their daily work to optimise the quality of life of older people within their care.
This preparatory project, designed to inform the larger programme of work, reviews and collates research and experiential evidence from a range of stakeholders about what specific practices or factors can impact upon the quality of life experienced by older people living in care homes
The report outlines key findings of the literature review along with testimonies from residents.
Download