Les and Lin's golden wedding anniversary is pure gold!
For staff at Ashton House Nursing Home in Haywards Heath, residents always come first. Bincy, Ashton's manager, heads up a devoted care team who are passionate about giving residents the quality of life they deserve.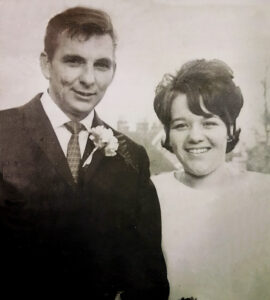 Recently, Bincy's team went the extra mile for one particular couple: much-loved gentleman Les and his devoted wife Lin, who were about to reach their 50th wedding anniversary.
Les and his wife Lin are something of a love story. The pair met when Les was working as a delivery driver for Wonderloaf and would regularly call by the shop where Lin worked. She made him a cup of tea every visit and it wasn't long before they fell deeply in love.
The pair married in 1969 at Haywards Heath Registry office, before being snowed down and spending the night at the nearby Birch Hotel.
Fast forward 50 years and the Birch Hotel still exists. It's also not too far from Ashton House Nursing Home…
With this in mind, Bincy and her team at Ashton decided to recreate Les and Lin's magical wedding, 50 years on. They secretly planned for weeks to ensure that their golden wedding anniversary really was pure gold!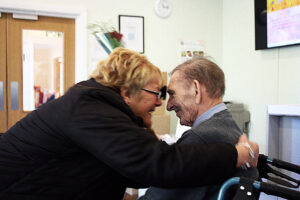 Together with hotel staff, Bincy and carers arranged for a surprise lunch for the couple at the Birch Hotel. They carefully planned all details of the surprise, including accommodating a different texture of food for Les and ensuring he would be supported to spend time away from the care home. What's more, all costs were kindly covered by the care home staff, themselves touched by Les and Lin's devotion to one another. What a wonderful gift!
On the day of their anniversary, Lin arrived at Aston to find Les waiting in reception in his best clothes and holding a single stem rose. It was an emotional moment bringing Lin, and many others, instantly to tears.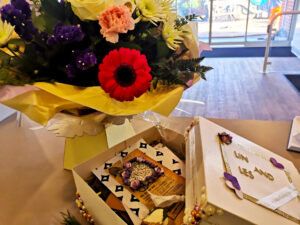 Lin was given a beautiful bouquet and a handmade gift box decorated with lilac beads – her favourite colour – lovingly created by one of the home's activity staff. Inside was a 1969 newspaper clipping of a Wonderloaf advert, a collage of photos of Les and Lin from their past four years at Ashton and many cards.
Happy tears were now in full flow when the couple received yet another surprise – their daughter Sarah appeared! It was an emotional reunion, fitting for such a special day.
The celebration continued with Les and Lin heading to the Birch Hotel for lunch, seated at their table that had been specially decorated by Les' carers. They received flowers and chocolates from the hotel before enjoying a romantic meal, just as they had done on their wedding night half a century ago.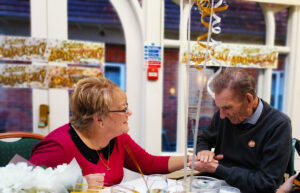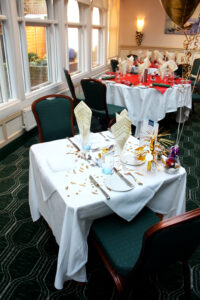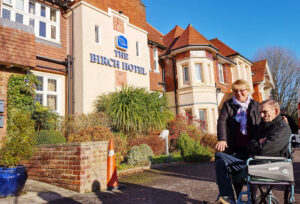 An emotional Lin said: "I woke up with a sigh that morning realising that Les was not with me at home, but seeing my boy in reception waiting for me with a red rose in hand, touched my heart deeply and I knew I would cry all day. I am so touched and appreciative of how thoughtful the staff have been on our special day."

Bincy added: "It was nerve wrecking, keeping it all quiet, but it was really exciting and well worth all the effort to see the look of happiness on Les and Lin's faces. We as a home want the community to know that coming to a nursing home is not the end of the story. Instead residents can continue to live the magic and lives that we have at our own houses."
A huge thank you to Bincy and her devoted team at Ashton for their amazing work – they truly did give Les and Lin a golden wedding anniversary, with gifts and memories to cherish for a lifetime! Thank you also to Les and Lin for sharing their story with us.
Have you noticed any care home team members who have gone the extra mile to make life better for others? Please contact us at mhl@city.ac.uk – we would love to hear from you!
By noticing and sharing what's working well, you will help others to reflect on their own practice so please do get in touch.