Kimberley Court get creative with their space
Michelle is the manager of Kimberley Court Care Home in Newquay, Cornwall, Anchor Group.
With redundant space in her care home, crying out to be used, she was inspired after reading about Rempods in this article:
http://www.express.co.uk/news/uk/674112/Scarlet-House-care-home-vintage-train-carriage-dementia-patients-RemPods
With encouragement from an area manager and a successful application to the care home's legacy fund, Michelle was able to start work on a reminiscence zone.
Initially, the project involved meetings with residents about what they wanted to have in the spare space. Staff then got involved with clearing-out, preparing the space for transformation and decorating. As the project developed, Michelle started reaching out to her local community via social media. Soon people, supplies, ideas and skills came flooding in to help! A local carpenter donated his time and services to the care home. He created a counter and a canopy for one of the shops.
Members of the public also donated vintage items to help care home residents remember products and items they might have used from their past. A local brewery donated drinks for the launch and the event was graced by a local celebrity, Josh Curnow, as seen on 'Britain's Got Talent'. It seems there is lots of good will in the community and people want to see our older people supported, which is just great.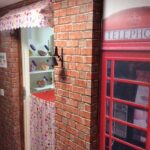 Now the reminiscence zone is modelled as a dementia-friendly street and is used daily as a venue for reminiscing; it provides talking points for visiting relatives; it is an area for recreational activities such as pool and darts and for more vocational activities such as cooking and washing up in the vintage kitchen. Michelle proudly shared her experience of the home's transformation: 'All our activities are meaningful and the street enables the staff to engage on another level with residents.'
Michelle regards this as the best thing she has done in her 25 years working in the care sector. "This has made a huge difference to everyday life for our customers, somewhere to go and reminisce; the first lady who sat at the railway carriage spent hours talking about her grandad taking her on the train to Wales; that is why we did this and incidences like this now happen every day. Reminiscing and shopping and doing the washing up in the kitchen, playing pool it all happens here. There is so much fun and enjoyment in the street; it makes me so proud that every day we are making a difference to customers living with dementia".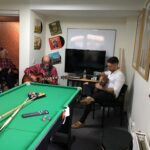 A supportive area manager and a company happy and able to provide funds were instrumental in enabling Michelle to realise her dream and for this she is grateful. But she also feels that with only a little thought and imagination the lives of people with dementia can be drastically improved.
"Everyone has been so supportive and I'd like to thank you to the local companies who have been fantastic: Sharps Brewery, Wax Newquay, Sharon Rogers, The Little Bakery, and the Newquay community Facebook page have supported our vision for the street."
My Home Life England extends its thanks to Michelle and her team at Kimberly Court (Anchor) for sharing their story with us. Well done!