Intergenerational Linking: Spotlight on One Good Turn led by Alive in Bristol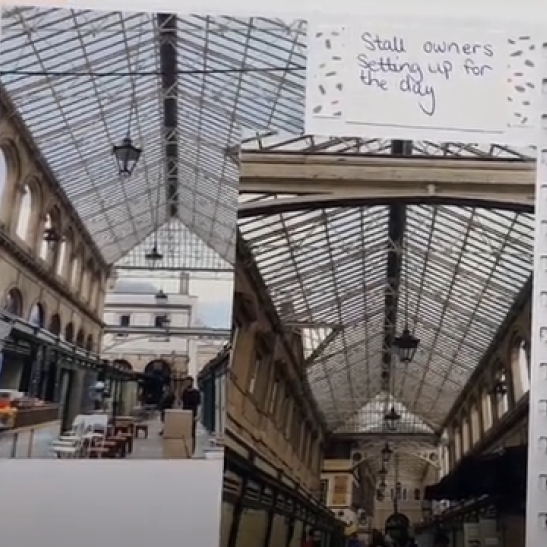 Alive have been running their Intergenerational Linking project known as One Good Turn since August 2020. Here's some of the brilliant activities that have taken place over the past few months:
---
Maps of Memory
In Summer 2021, Alive launched the Maps of Memory initiative, 'exploring Bristol across the generations.' Young people across Bristol have been exploring local places of special significance to older people living in care homes, who were unable to visit themselves due to the pandemic.
Young people ventured out on their behalf and captured their trips through drawings, photos, writings and collages in a specially made scrapbook. They also collected different souvenirs, for example tickets, bits of nature and photos, to create an "armchair adventure" for the older person to discover and reminisce.
One of these young people was 12-year-old Lukus, who visited an inner city farm with his family and explored local street art on behalf of two ladies living in a local care home.
Lukus came up with the idea of feeding back about his day by interviewing each member of his family about their experience of the trip. He also shared the history of the farm. One of the older ladies, Michelle, is blind, so Lukus's decision to film footage with commentary meant Michelle could still feel very much part of his trip. What a star and a natural on camera!
Another young person went to St Nicholas Markets because it has special significance to their linked older person. Here's a snippet from their scrapbook: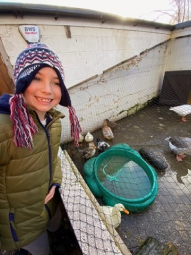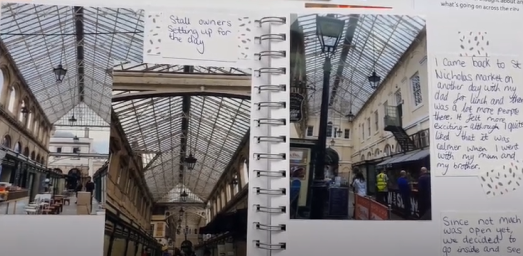 ---
Zoom workshop on inclusive art
Flamingo Chicks is an inclusive youth dance group and its young people took part in a Zoom workshop led by Rosie Moriarty-Simmons OBE that focused on inclusive art, living with disabilities and thriving creatively.
This was open to all children involved with Flamingo Chicks, including children with and without disabilities and those living with additional physical support needs.
Older people living in Manor Cottage Care Home also took part in the Zoom call and the session inspired an ongoing intergenerational art exchange with Flamingo Chicks!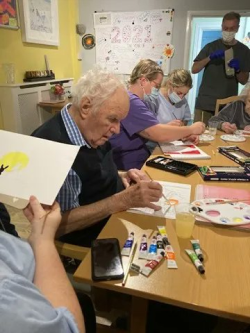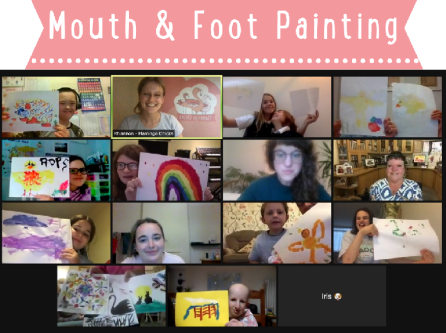 ---
Allotment Sessions
Since October 2021, fortnightly intergenerational allotment sessions have been running in Brentry, uniting young and old through nature. All sorts of green craft activities have taken place, including miniature garden making.
The sessions take place in the daytime and so are accessible (and free) for children from the Bristol home school network, as well as older people living in care homes and people over 50 in the wider community. The practical sessions also have a section dedicated to learning about dementia and supporting others in the community.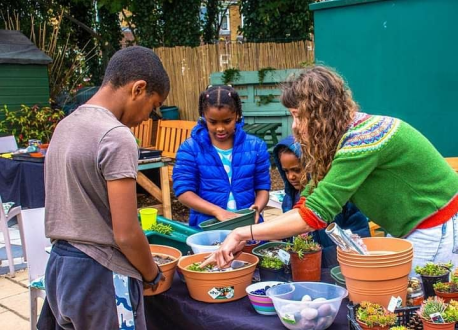 ---
Christmas hamper exchange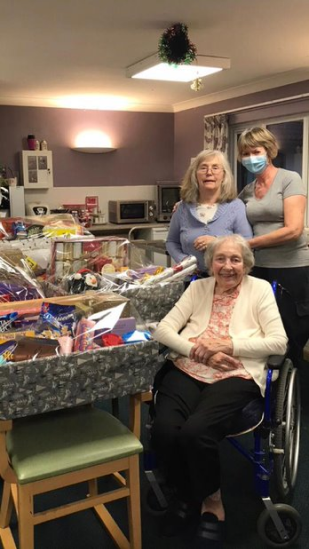 Back in December 2020, people living at Deerhurst Care Home, their families and staff members created beautiful Christmas hampers for those spending Christmas alone and for families who were in need of some extra support.
This has now turned into a yearly tradition!
Once again for Christmas 2021, older people living at Deerhurst created hampers and then staff and families dropped them down to Bristol Grammar school. Here students sorted through the hampers and prepared to gift them on to others in the community.
An intergenerational team effort sharing kindness at Christmas!
---
Treefest 2021
Alive Activities took part in Treefest 2021 and had their very own tree displayed at St Mary Redcliffe Church representing their community work.
This year the tree decorations were handmade by older and younger people at their dementia-friendly allotment in Brentry as part of the One Good Turn project. This included young people from Flamingo Chicks and people from Bishopsmead Lodge care home.
The decorations were a continuation of Alive's "Jars of Joy" project from last Christmas, where participants filled up jam jars with lovely items for others in the community.
This year younger and older people filled their own baubles, including with pictures of everyone who had been involved in the One Good Turn project. A lovely tribute!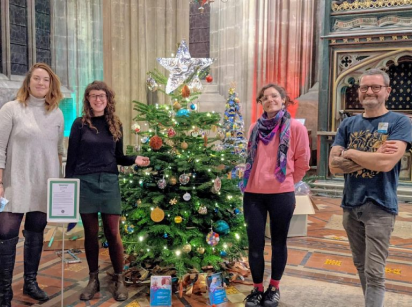 ---
Upcoming activities
Earlier in the project, Begbrook Primary filmed themselves singing "Let it Be" for their linked care home, to spread joy and raise spirits during lockdown as the older people shared that it was their favourite song. Plans are now in place for an afterschool intergenerational club and we're excited to hear how this develops!