Homer Simpson and other QI tools have an impact at Rodney House
Following a successful QI workshop as part of their My Home Life England Leadership and Development programme, Rodney House Care Home in Liverpool kindly sent us the following update on how they had put into practice some of the activities from the day and the impact it had.
One of these QI tools was the "Homer Simpson" activity – a fun exercise which can be used during Quality Improvement workshops to help staff to understand how to develop a plan (driver diagram) for their QI project.
It enables the team to:
identify a SMART measurable aim for the project
identify the primary areas they need to focus on
think how they can break these down into manageable tasks to achieve the aim.
The use of the Homer Simpson example gets the group to think creatively about what kind of things that Homer (with his very unhealthy lifestyle) might do to achieve the aim of improving his health.
This approach can then be translated to any QI project that a care home is interested in undertaking.
In this case Rodney House were aiming to reduce the number of recorded incidents of behaviour which challenged and creatively used the Homer activity with different people to achieve this.
---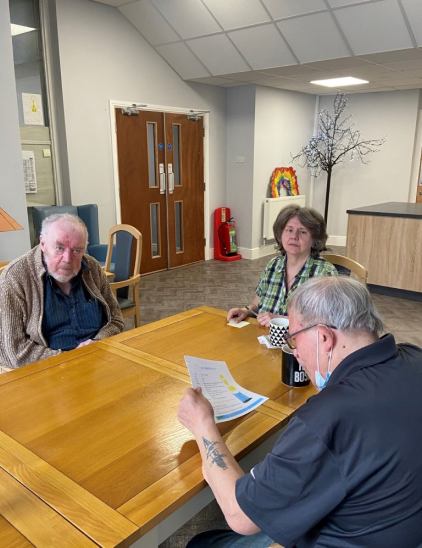 Lyndsey Green, Care Manager, said:

"The QI day was good and brought some good things to the home. I did the Homer Simpson project with some of our residents and they enjoyed it. One lady has learning difficulties and is diabetic. She learnt about her health and how to keep fit (see second video below).

The Homer Simpson project has been useful and everyone who I have done this with has enjoyed it. It builds up team activity and also has an outcome on people's health.

I have also used the Homer Simpson project with our management team in a KLOEs training session that we recently had. They thought it was fun and also a good activity for team building. We are going to continue to use it as a team building activity at Rodney House and will do it with new staff members and new residents.

We have also used another tool from the QI day on monitoring behaviours which challenge. The idea was very useful so we can be more aware of behaviour and triggers. We have completed our own ABC chart to monitor this and we have recently completed a training day with all our staff on behaviours which challenge."
---
Videos:
---
Thank you Rodney House for sharing this update with us. We're really pleased to hear that the tools from the QI workshop have made a difference!
If you've also been through one of our programmes, we'd love to hear how you've continued to use any of the tools and materials from the programme and put into practice different techniques. Please get in touch with us – email: mhl@city.ac.uk