Daphne's 100th birthday is fit for a Queen, Mayor and Mayoress
Daphne Reed, a much-loved resident of Franklin House Care Home in West Drayton, turned 100 years old on Friday 31st January 2020 and staff at Franklin House ensured her milestone birthday didn't pass quietly! With a visit from the Mayor and Mayoress of Hillingdon and a card from the Queen, Daphne's century celebrations really were very royal!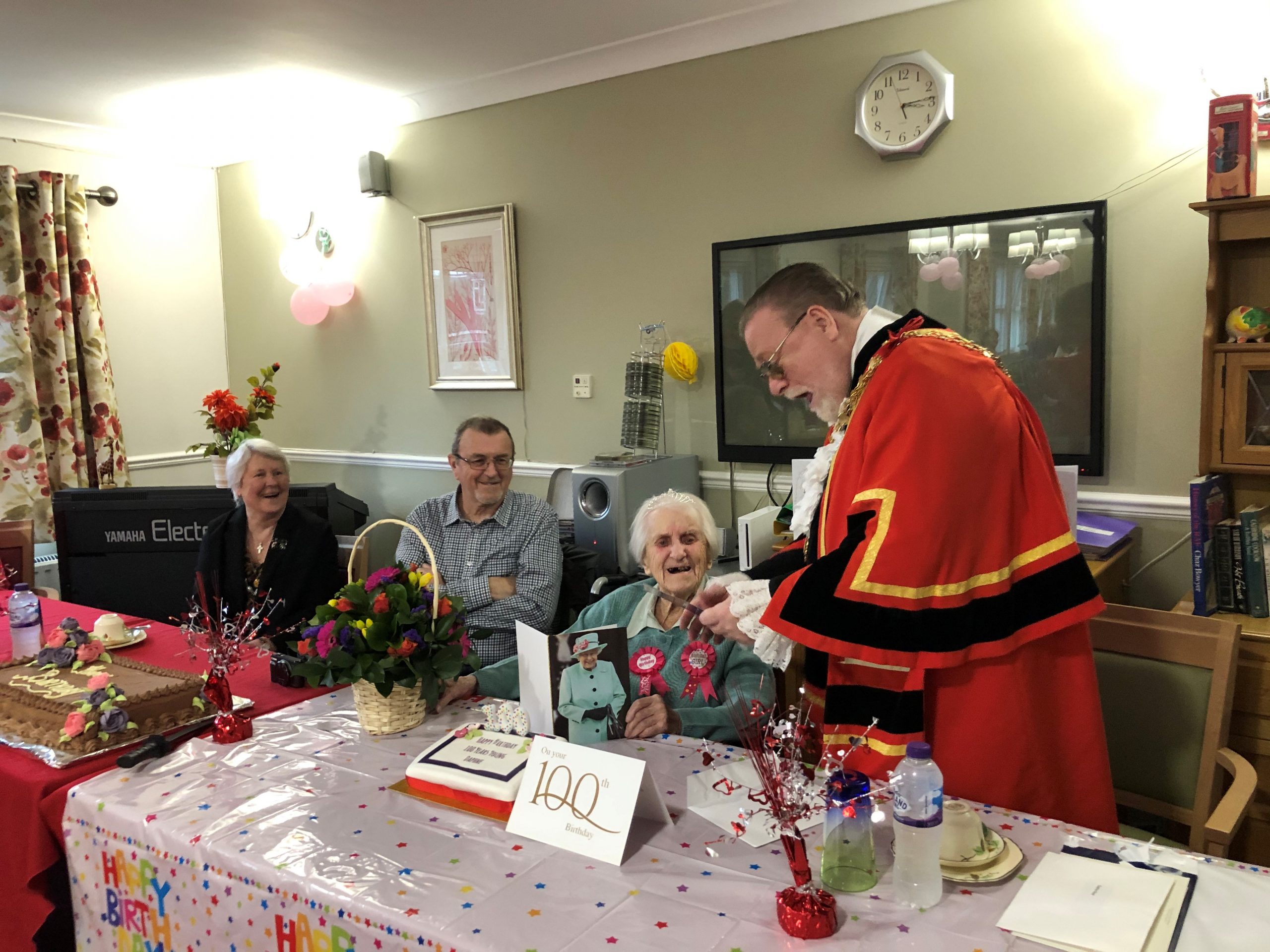 Franklin House, a Care UK Home, is part of our North West London Care Home Friends and Neighbours (Care Home FaNs) initiative. The team at Franklin House have been doing fantastic work to connect meaningfully with their local community and they really champion the Care Home FaNs community engagement mission in order to enhance the quality of life of their residents, including Daphne.
Daphne has been a resident at Franklin House since January 2019, and staff really did go above and beyond to ensure that the community were involved in marking her special day.
Care Home Manager Mathew V Mathew and Lifestyle Lead Lola Krasser led staff in planning a big celebration for Daphne, beautifully decorating the care home and inviting her family, her friends from church and fellow residents, as well as special guests David Yarrow and Mary O'Connor MBE – the Mayor and Mayoress of Hillingdon.
Daphne got into the birthday sprit with a birthday tiara and two birthday rosettes and was thrilled to see the Mayor and Mayoress on her special day.
The Mayor and Mayoress presented Daphne with a card from the Queen – who was also wearing a duck-egg blue outfit, just like Daphne. Daphne quipped: "that's lovely! Please thank the Queen from me when you see her!"
During her working years in South West London, Daphne used to work as a secretary and enjoyed going to the opera, baking and watching Wimbledon. She received a Sparkling Times newsletter all about her life and her hobbies, kindly organised by Lola, who took the time to record Daphne's life history in a meaningful memento.
Daphne received many other cards and gifts and Denzil in Franklin House's kitchen made Daphne a huge chocolate cake as well as sandwiches and other finger food. Fellow residents got into the party spirit, enjoying the food and hits from Bing Crosby sung by Clive Silverman as well as other classics including Pretty Woman. They enjoyed interacting with the Mayor and Mayoress too.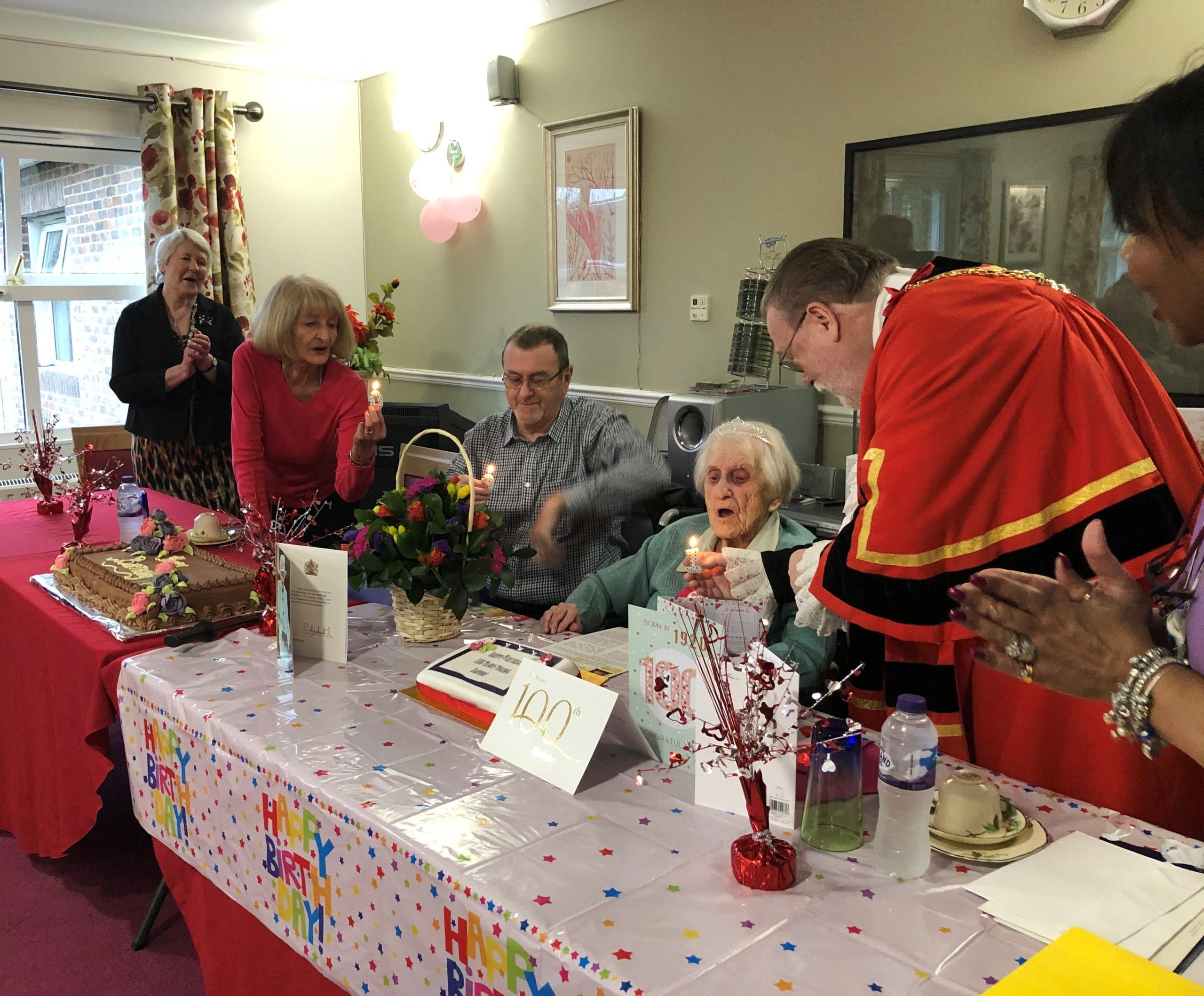 Earlier in the morning Daphne went to the Dementia Café at Hayes and Harlington Community Centre. Residents from all different Hillingdon care homes attend the café, and turned out in force for Daphne, along with Daphne's family and staff from Franklin House.
In the spirit of great community engagement, Hayes Asda very kindly donated a cake and finger food for all the residents and attending members of the community. Afterwards back at Franklin House there was a private communion service for Daphne at the home's Social Club, before the main event at 3pm. Multiple celebrations in one day – nothing less than Daphne deserved!
Previously, Daphne also saw a performance of Sleeping Beauty at the Royal Opera House as an early birthday celebration. Furthermore, at Franklin House's Christmas party celebration at Arora Hotel, Heathrow, the hotel management also arranged a surprise cake for Daphne, as a pre-100th birthday bash, as well as singing to her, demonstrating their strong community spirit. (Sunita Arora has been a great sponsor of the residents of Franklin House over the years, including donating paint for local artists to paint murals in the home, with images chosen by residents). A huge thank you to everyone in the local community who came together to cebrate Daphne's big day.
About her birthday, Daphne Reed said:
"It's been such a lovely day, everyone has been so nice to me. It was so unexpected to see my church friends here too. My grandchildren are also here. A lot has gone on today, I need to collate my thoughts! But it's all lovely!"

About the Opera, Daphne said:
"This was lovely, the dancers on their toes, how do they do it, the costumes, all lovely. It's nice to come to places like this."

Care Home Manager Mathew V Mathew said:
"Daphne is a much-loved resident here at Franklin House and we wanted to give her the 100th birthday celebration she deserved. We're proud to be part of the Care Home Friends and Neighbours initiative recognising just how valuable community engagement is for our residents and we're so grateful to everyone at Franklin House and in the community who came together to celebrate Daphne's special day".