COVID-19 'Lockdown Learnings' – care homes share things they found helpful
Staff from a group of care homes have shared with us at My Home Life England some of the things they found helpful during the first lockdown of 2020. These 'Lockdown Learnings' may be of interest to other care homes.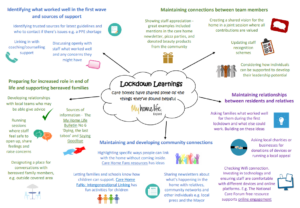 The thoughts of 12 care home managers and activity coordinators from the Care Home Friends and Neighbours North West London project were gathered by My Home Life England during online and telephone interviews in the summer of 2020.
Staff were asked to reflect on 'what they could be proud of' in terms of how their care homes managed during the challenging months of lockdown due to COVID-19.
From these discussions, we have created a visual mindmap sharing some of the things staff from these care homes said they found helpful when in a lockdown situation.
Download the interactive version of Lockdown Learnings:
Download