Care Homes in our Communities
"Our residents do not live in our work place, we work in their home."
I have been sharing this quote from a care home worker and thinking about it a lot over the last few weeks.
I feel very honoured as part of our 'You Can Make a Difference' Campaign and tour across the country to spend most days speaking to staff in hospitals, hospices and care homes, or our next generation of healthcare professionals in colleges or universities.
So often I travel home feeling inspired by the people that I've met and pledges that we've received.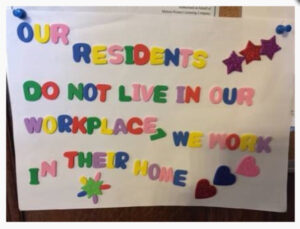 The quote made me reflect on the way that residential care is often thought about, both in terms of the people who live there and the staff who work there.
Communities are in our hearts, we are the heart of our communities and our homes are at the heart of our community and relationships. This isn't something that should change when we start live in a care home, after all, as the quote points out – this is our home now.
If we want to create friendly and supportive communities we have to include care homes, the people who live and the people who work there. If we are going to ask people 'what and who matters to you?', let's make sure we ask the people living and working in care homes too.
What can you and I do to help change perceptions, and make sure that people living in residential care remain at the heart of our communities?
For my part, a big focus of my work through the Dementia Carer Voices project has been about highlighting the unique life stories of people living with dementia and their carers, and celebrating the role of the staff that make a real difference to their lives.
"Our residents don't live in our work place, we work in their home". In fact, our residents don't just live in our care homes, they live in our communities and we can all play a part in supporting them to live well and stay included.
Thank you to Tommy Whitelaw, Project Engagment Lead at Dementia Carer Voices for this blog.