Bring Geranium Joy to care homes!
With some garden centres now re-opening, we're calling on the community to pick up a plant on their visit (or find one they already have!) and drop it off at their local care home to spread some

Geranium Joy!

🌺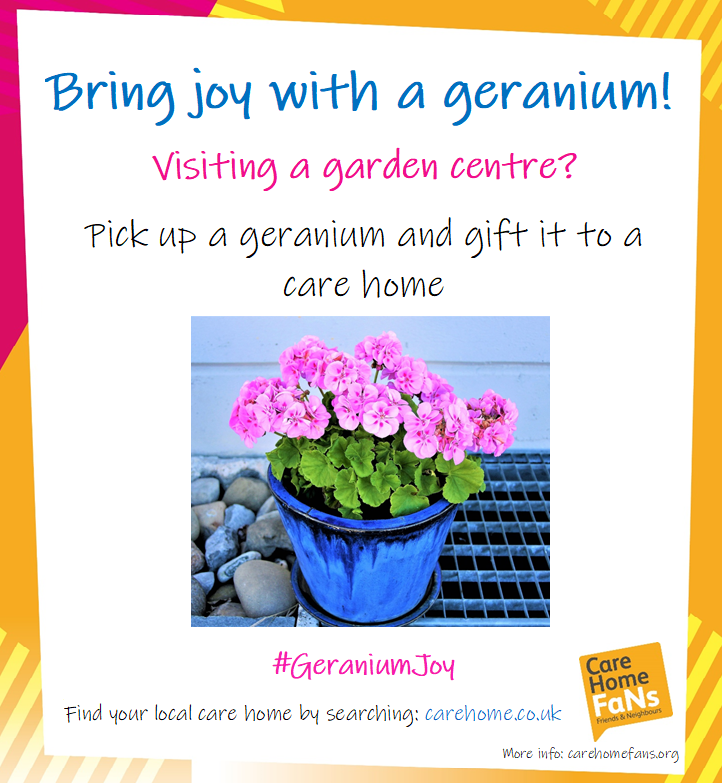 Residents are missing visits from loved ones and many are feeling isolated during this pandemic. Acts of kindness keep spirits up in these challenging times and help residents to remain connected to the community around them. Dropping off a jolly geranium is sure way to bring joy!
If you're a care home and you'd like to be involved – why not use this Tweet to spread the word:
Happiness can't be potted but pots can bring joy! Visiting a garden centre or have spare plants? Drop a geranium at your local care home [/at care home name] and see smiles bloom! #GeraniumJoy #flowerpower @MyHomeLifeUK
You can also download our #GeraniumJoy picture. Hover over the image, rick click and select "save image as".
We'd love to hear from you!
If you're dropping off a geranium, or if you're a care home that has had one delivered – please send us in a photo at mhl@city.ac.uk
Wellesley Road Care Home Manager Michele Tricker got in touch to thank her local NW3 community for bringing #GeraniumJoy to Wellesley Road:
"During the COVID crisis, we've not been able to welcome visitors and relatives into the care home as we normally do.
Being given a geranium by the local community is a lovely sign that people appreciate what we're doing – and the residents love flowers, too!"