Andrew Cohen House awarded Outstanding for Caring!
A huge congratulations to Andrew Cohen House, run by Birmingham Jewish Community Care, who were awarded an Outstanding rating for Caring in their recent CQC inspection!
Andrew Cohen House, in Birmingham, is led by manager Sharon Grey and her hard-working team. The care home can accommodate up to 59 people and was awarded Good in the four other areas, receiving a Good rating overall.
Manager Sharon said:

"We are so thrilled, as you can imagine! The team are absolutely thrilled to bits, on cloud nine. I told them as soon as I found out. It's come at such a good time for staff morale and given staff a boost at such a difficult time."
Sharon has recently been through the My Home Life Leadership and Development programme and the impact of her participation was noted in the CQC report, stating "the registered manager had been supported by the local authority to complete My Home Life training, which promotes positive support and quality of life within care homes. Feedback from people, staff and relatives showed the registered manager continued to drive a positive impact on the quality and safety of the service provided."
This report also commented that "the registered manager recognised their role in empowering and encouraging staff".
Reflecting on her learnings from the My Home Life programme, led by facilitator Danuta Lipinska, Sharon highlighted the impact that 'having caring conversations' has had on her practice, as well as 'focussing on relationships' through being aware of others and connecting with them:
"I feel I have a very good relationship with staff and I always make sure to have my door open where possible. I pride myself on knowing both the staff and the residents and this helps everyone to feel welcomed and connected. I know that it's important to work alongside my team, be visible, be approachable and listen to staff suggestions as this all helps staff to feel included and that they own the progress we've made together. It's amazing how far we have come to achieve this Outstanding rating for Caring, I am so proud of everyone!"

"It's important to recognise that that things can't be perfect 24/7 but not to be put off and address any problems head on. I'm open and honest with relatives too. My Home Life has also reinforced to me the importance of celebrating the small little things!"
The news of the Outstanding rating was a big morale boost to staff, especially during the COVID-19 pandemic which has been difficult for the home, with positive cases confirmed, including sadly one death.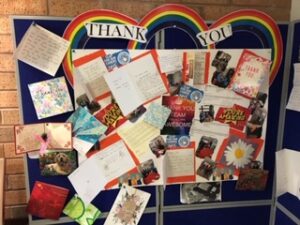 There has also been weight loss amongst residents, which Sharon attributes to isolation impacting on eating – "eating is a social activity and people eat when they socialise. With isolation the social element is stripped away and so people eating in insolation in their bedrooms have been losing weight."
However, Sharon is very proud of her team's resilience and resourceful thinking during this challenging time. Together the team set up a Facebook page for the home to help relatives stay informed during lockdown and this has been a real success, with people sharing comments, poems and images!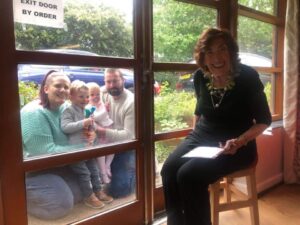 Staying true to their Outstanding caring rating, the team have also worked hard to arrange safe socially distanced entertainment in the garden for residents to enjoy, as well as marking other special occasions including VE Day and two 106th birthdays in May and June!
Sylvia also celebrated her birthday with her family during lockdown at Andrew Cohen House – with big smiles!
Well done to all the team at Andrew Cohen House for their deserved Outstanding rating for Caring!