A Satisfied Saturday: the power of saying YES!
Our very own North West London Care Home Friends and Neighbours (Care Home FaNs) member, Najjah, a 'Life Style Coordinator' from Neem Tree Care Centre, has been working hard to help build new connections between Neem Tree and their surrounding communities. Najjah shares with us a recently an opportunity that arose on her day off that was too good to turn down…
"It was Friday afternoon when I received a call from a voluntary organisation wanting to bring students into the centre on Saturday morning. The practical voice instead my head said 'NO', but my heart said 'YES'!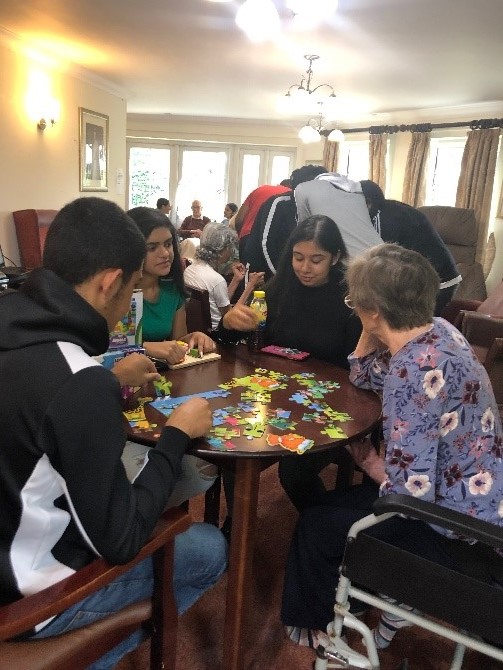 "Every day you say no to someone or something, will be an opportunity you won't get back"
On the door step of Neem Tree, early Saturday morning stood twelve young students from the University of West London. They came with hearts of passion, joy and plenty of energy. Not what I was expecting.
Straight away, the students were excited, wanting to explore all that Neem Tree had on offer. It was great to see throughout the day common connections being built between the old and young. Packed full, the day consisted of activities such as painting, reading, games, sports and using the magic box. During the morning Students confidently mingled in the lounge, turning up the music and chatting to residents about what they liked. Changing up the tunes, students show cased 'sounds of the unknown', educating residents in new musical fashions and genres. Later, Students played chair football with residents in mixed teams. The teams picked were UK vs Kenya. It was a tight match, but Kenya won, everyone had a great time laughing, exercising and relaxing.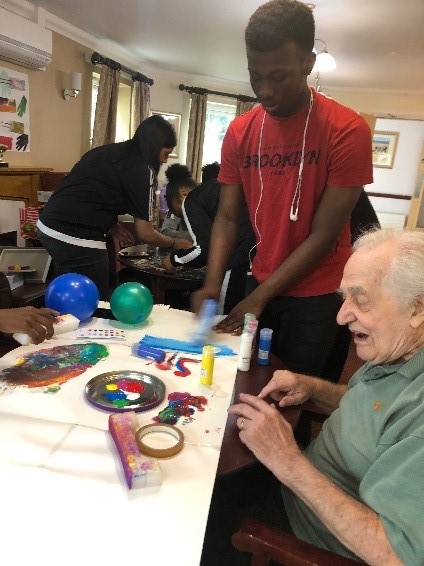 Letting young people into Neem Tree created new and exciting moments for residents to share smiles and joy. These amazing young people showed us, the residents, staff and relatives who they were without fear and reservation. It was a surprise to immediately see that these young people had such a mixture of valuable skills and qualities which we could share within our care home community. Skills such as languages, being good listeners, being able to singer and perform, and overall their overwhelming kindness towards our older people. In just one day, all the students created magic and healing moments for residents, and it was done by just by being themselves.
In the afternoon we took students to the second floor. Many of our resident are of Indian origins. As it so happened, some of the students were also from Indian or from mixed heritage backgrounds. Conversations immediately sprung up about everyday normal life stuff such as, families, food and shopping in Southall! The residents were engaged and enlightened with all of their visitors, enjoying every moment spent together.
Every resident was visited by the students, even the residents who struggle to come out of their bedrooms got a visit. Surprisingly, students spoke openly to me afterwards about how touching and emotional these special moments spent with residents were. Even I had to hold back the tears whilst watching how one resident became emotional wanting students to stay for longer because they'd had such a great time together.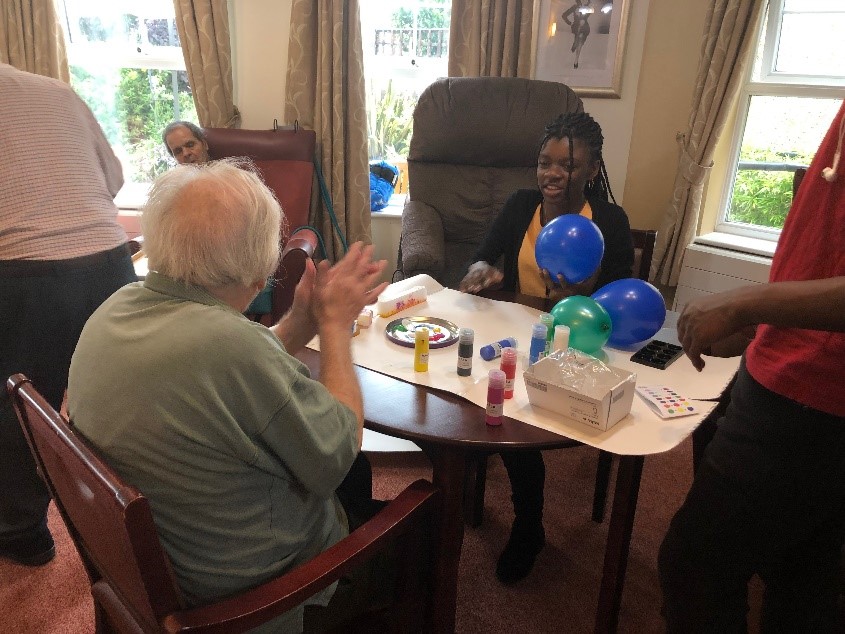 The whole experience was fantastic, I didn't want the day to end. The whole thing had such a positive influence on me, I can only wonder what it did for the residents of Neem Tree?
Now I'm going to pause and ask you… imagine if I had said No to this visit because it was my day off, because it took some coordination and effort to get going. Just imagine, how much residents would have missed out if I hadn't had gone with my heart. So, I say to you, always listen to your heart and take a chance, it might end really well… even on your day off!"
A reflective blog written by Najjah Edwards, Lifestyle Manager for Neem Tree Care Centre, London. My Home Life thanks Najjah for her passion and commitment to Neem Tree and the well-being of their older people.