A new pace of life for Llys Hafren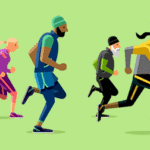 Llys Hafren is a residential Care Home in Wales and My Home Life England have been in touch with them to find out how their community engagement work has achieved so much success in the last year.
Llys Hafren is making it their mission to change people's understanding of what older people can do. As a support worker at Llys Hafren, Charlie highlights: "A general misconception of older people living in care homes is that they can't look after themselves, can't participate in activities, and can't go out into the community, but that's definitely not the case for every resident."
For the last nine months Llys Hafren have been working with their local volunteer hub connecting residents with clubs, groups and individuals who are based in the community. "We simply contacted our local volunteer hub and asked them to assist us in finding interested parties to connect with our residents and it all went from there". It has proven to be an innovative decision and life changing for the residents, as Charlie explains:
"Before a resident comes to us we go out and assess their needs, this includes their likes, dislikes and hobbies. It was during this assessment that the relatives of a particular gentleman shared that it was important for him to run regularly. Not many of us would associate sport with older people living in care homes and yet, for one resident, it's been a life long love". Llys Hafren worked with the volunteer hub to find out how together they could keep their resident's passion for running alive, whilst continuing to keep them safe and ensure their needs are met.
So how do you ensure the safety and wellbeing of an older person in this scenario? Charlie explains: "When reflecting on how to meet the needs of this particular resident, one of our Alzheimer's Society's Dementia Friends facilitators, who is also part of the local volunteers hub, suggested we contact our community running club. The running club were more than happy to support the resident joining the group." However, before the resident began running, a representative from the running club came to visit the resident and met with the care home's manager and staff so they could establish how, along with the resident's family, they could practically facilitate the resident's passion for running. Due to the hard work and dedication from the home and the running group, the resident enjoys runs of up to half an hour, every week. The home feels that this activity keeps the resident feeling contented, physically enabled, and offers continuity from their life before they moved into Llys Hafren care home.
Why not ask your local volunteer hubs what they can offer your care home?
My Home Life England extends its thanks to Llys Hafren care home, its residents and Charlie for putting together this blog.