My Home Life principles are underpinned by an evidence base. Thousands of care home practitioners are now using this vision for quality of life to support their practice.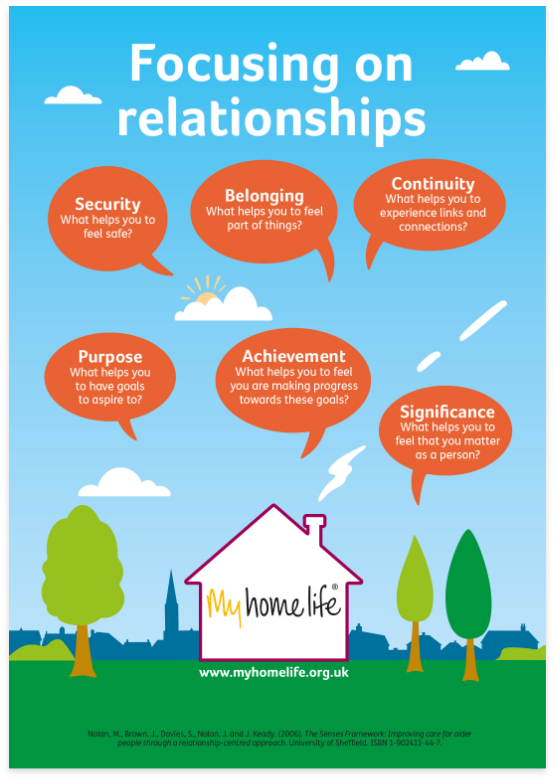 Focusing on relationships
The My Home Life Vision is underpinned by Relationship-Centred Care and the Senses Framework (Nolan et al, 2016), which is a framework for improving care for older people through promoting positive relationships. It highlights the importance of not only meeting the needs of residents/clients/ people who use services, but also, addressing the needs of relatives/friends who visit and staff who work in care settings. To achieve good relationships and quality of life for all in this context, it suggests that we need to consider what gives each individual a sense of security (feel safe), belonging (feel part of things), continuity (make connections between past, present and future), purpose (have goals), achievement (moving towards their goals) and significance (matter as a person). Paying attention to these senses can help us identify the individual needs and personal outcomes for residents/clients/ people who use services, relatives and staff. In My Home Life we use the Senses Framework to help make visible the contribution that staff, residents/ clients/people who use services and relatives can make to the creation of a caring environment; we emphasise reciprocity and the need to create a care culture in which all participants are meaningfully involved.
Reference
Nolan, M., Brown, J., Davies, S., Nolan, J. and J. Keady. (2006). The Senses Framework: Improving care for older people through a relationship-centred approach. University of Sheffield. ISBN 1-902411-44-7.