Outcomes of our work
Building upon 15 years of expertise working with care services and the wider health and social care system, My Home Life England have the tools, frameworks and significant knowledge of best practice to create confident, accountable teams who are equipped with practical evidence-based insights to enhance the quality and the reputation of their services.
During 2020/2021 we received the following data from a sample of people who completed our programmes:
of care practitioners stated that the level of quality of practice had increased because of participation in the programme.
of care practitioners stated there had been an increase in the quality of experience of people using the service.
of care practitioners stated they had an increased knowledge of how to improve the culture of care where they worked.
Our range of programmes have delivered other significant outcomes:
Improved leadership and culture
"My Home Life has made tangible differences to the lives of our residents, through improving the culture in our homes, introduction of innovative ideas and a new perspective on gathering and using information" – Owner, Essex care home chain 
Participants of our programmes are provided with the tools, confidence and top-tips to take forward improvements, manage their time, prioritise and 'nip in the bud' issues that arise before they get out of hand, implementing a relationship-centred, evidence based culture of practice.
A more in-depth evaluation of the qualitative outcomes of the My Home Life England leadership support programme can be found in this document.
More responsive to service-users
An evaluation of our programmes suggested:
✓ Involvement in decisions by people who live in the home increased from 46% to 86%
Participants also reported that the quality of experience of those living in care services improved through our programmes. The engagement between staff, service-users and their families likewise improved.
Reduced pressure on the NHS
In a study of 42 homes supported by My Home Life England, the following was noted:
14% decrease in ambulance call-outs
16% decrease in ambulance conveyances
9% decrease in Accident and Emergency admissions
5% decrease in non-elective admissions to hospital
Care homes not working with My Home Life England experienced an increase in all four metrics.
Data was compared with the previous two years.
Broader Partnership and Integration Outcomes
Care Practitioners on our programmes grow in professional confidence, are more resilient and therefore more able to play a more effective partnership role with the wider health and social care system.
"Colleagues from CQC, CCG, Community Health, and Council… all of them [have] picked up the difference My Home Life has made." Milton Keynes

"Because the Care Home Manager feels safe to speak freely [through My Home Life programme], it can highlight to Commissioners and Local Authorities what is and isn't working well, and then what is incumbent on them in addressing changes…" 
Business Outcomes
Our data shows that our programmes help participants work more effectively with staff to create a culture that's responsive to customer needs and to actively engage with potential customers. An evaluation of a large programme demonstrated increased staff retention.
"Engaging in My Home Life has brought many benefits: giving staff increased resilience, meaning they are less at risk of burn-out. All of this enables reduced staff turnover and sickness with care homes staff driving forward their own quality agenda resulting in improved relationships with external agencies". (Former Provider CEO, 2013)
A more resilient workforce:
'Without My Home Life, I wouldn't be still working in the care home sector'
Participants of our programme communicate a sense of stronger resilience and confidence, many of whom would struggle to remain in social care otherwise.
Improved CQC inspections
"We would engage with the MHL frameworks because we knew that this would get us through the inspection"
Some managers have informed us that some CQC inspectors have looked favourably on services that have engaged with My Home Life England programmes.
Better connections to the local community to support wellbeing
Our Care Home Friends and Neighbours programme has supported care homes across the country to reach out to the community, supporting them in delivering quality of life in their care homes and also enhancing the profile of their homes.
Better clinical outcomes
'[We have} less medication errors due to improved transparency and communication'  – North West London care home
Following the inclusion of Safer Provision and Caring Excellence methodology into our programme, 100% of managers in our first cohort reported that they felt confident to introduce quality improvement approaches to improve safety.
Lockdown Learnings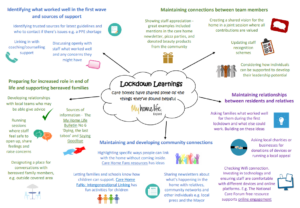 Care home managers and activity coordinators from the Care Home Friends and Neighbours North West London project shared with My Home Life England some of the things they found helpful during the first COVID-19 lockdown of 2020. These 'Lockdown Learnings' were shared widely with other care homes.
During online and telephone interviews in the summer of 2020, staff were asked to reflect on 'what they could be proud of' in terms of how their care homes managed during the challenging months of lockdown due to COVID-19. From these discussions, we created a visual mindmap sharing some of the things staff from these care homes said they found helpful when in a lockdown situation.
You can see and download the interactive version of Lockdown Learnings here.
We'd love to hear from you - Contact us today