News
Senior Development Officer (0.8 FTE)
My Home Life is a UK-wide initiative that promotes the quality of life for older people in care homes hosted by City, University of London, in partnership with Age UK.
The programme works appreciatively to support the care home sector through a range of research, enterprise and social action activities.
The role will primarily focus on three areas of activity. Firstly, you will lead our communications programme which aims to influencing practice across care homes and across the wider health and social care system. Secondly, you will help support stronger community engagement within care homes. Thirdly, you will identify funding opportunities to develop new local projects that support care home transformation across England.
This is a very creative and dynamic role that offers opportunities to work alongside national and local stakeholders from care homes, commissioning, community and government. We are looking for a self-motivated, confident skilled communicator who is well-organised, has an eye to detail and a passion for celebrating the good work of care homes and helping them make things even better. Click below for more information:
Make a real difference to quality of life in care homes- volunteer needed!
We are looking for a dynamic individual to volunteer in our team to:
Gather stories of good practice from care homes
Create materials that convey new practice ideas that can be distributed across the sector
Directly support our networks of care homes to take forward new ideas for improving quality
Ideally, we are looking for someone who has experience of working with or in care homes and recognises the vital role that they play. We want someone who is self-motivated, a team player and is able to offer 1-2 days a week to help us. In return, My Home Life can help you develop your thinking, your skills and feel part of a growing movement aimed at promoting quality of life in care homes.
We are open to applications from people from all walks of life: from current students to retirees, and anyone in between. If you're interested in some time developing your career plans and CV-building during your volunteering placement, we'd be happy to support that.
If you've had a look around this website (www.myhomelife.org.uk), like what you see and want to have an informal chat about this volunteering opportunity, email mhl@city.ac.uk
A birthday present to our network
Over the coming 12 months, we will be sending out a host of tools, badges, stickers and briefings to our network to help them celebrate the great things that they are doing in care homes and share their great stories with us!
Celebrating the great work that you are delivering
We will be taking part in events across the country (list of UK events coming soon) to celebrate the great work we are doing and keep sharing stories of best practice on our website.
Creating new insights and evidence
We will be updating the evidence base for quality in care homes and sharing new insights and stories that come out of the year's celebrations.
Continue Reading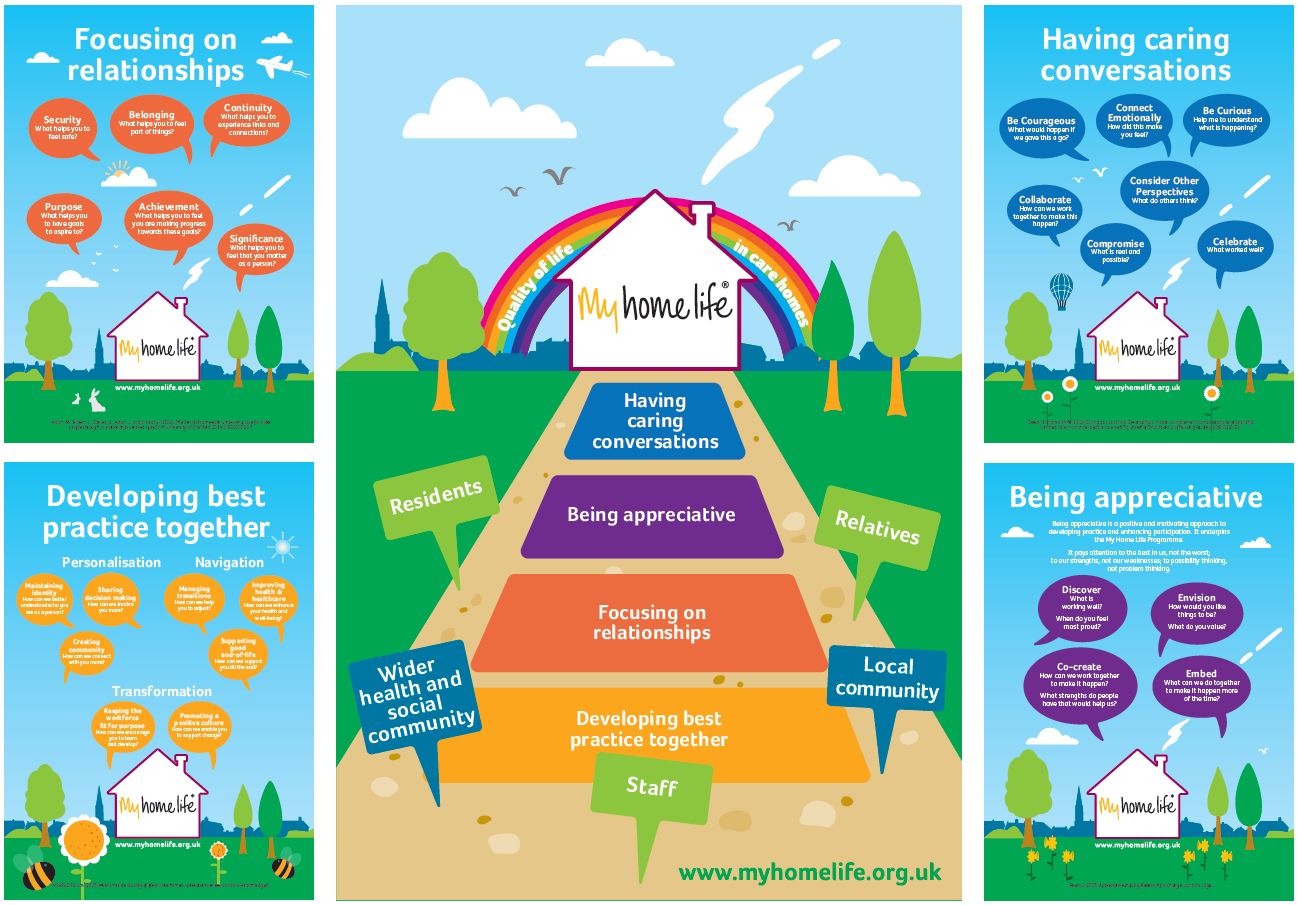 New images of the evidence base of My Home Life are now available to download!
These posters show all the components of the MHL vision – as well as how they all fit together. Huge thanks to the team in MHL Scotland who have been working hard to bring these together!
You can download posters on the individual aspects of the evidence base:
Best practice themes (read more here)
Relationship centred care (read more here)
Caring Conversations (read more here)
As well as posters of all the components of the evidence base and how they lead to quality of life in care homes. You can also find the new posters under 'Posters' in our Resources library.
Our latest email update is below – free to all – sign up on this page
"If one thing is certain it is that care homes operate with uncertainty and upheaval every day… we've got through it before, we can get through it again."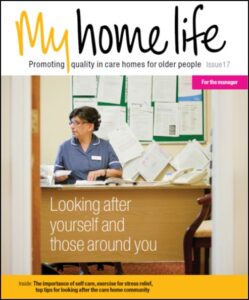 Dear friends,
Thank you so much for your tips on supporting managers and care home teams to take care of themselves at times of stress.
We've collected some of your advice into our new bulletin 'Looking after yourself and those around you', out now in Care Management Matters and on our website.
Hard copies available on request – email mhl@city.ac.uk or call us on +44 207 040 5776. Continue Reading
The My Home Life Cymru Newsletter is available to download from the Age Cymru website, in English and Welsh – including details of My Home Life 'taster' events, the 2016 conference and much more.
MHL Cymru are also conducting a survey on their newsletter and how you use it – all responses are welcomed – download the questionnaire.
The current edition of our practice update is out now – sign up for your free email update here.
Dear friends,
Your advice? Sue, a care home manager writes:
"Things are really hard at the moment for the whole team in the care home, I know my staff are looking over their shoulders for the next round of cut backs. I'm feeling the pressure myself too. Any tips for how I can better support myself and the team to get through this tough time?"
Get in touch with your tips:
What do you do to take care of yourself?
What's helpful for supporting your team (even when you're low on time and money)?
Email mhl@city.ac.uk call us on 0207 040 0260.
Best wishes,
The My Home Life Team
P.S. For anyone interested in Enhancing health in care homes – there's still time to register for a 1st December event on that topic.
September saw the first conference for My Home Life in Northern Ireland; the Improving Quality of Life in Nursing & Residential Homes Conference was held at Magee, Ulster University with over 170 delegates.
The conference was targeted at health and social care practitioners across a range of sectors who are interested in improving quality of life for residents, relatives and staff in nursing and residential homes. Delegates included HSC representatives across the 5 trusts, RQIA, care home managers and provider's and academic and research staff from Ulster University.
Continue Reading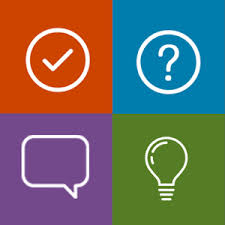 Stay Connected to the My Home Life movement and download the new My Home Life App today
Each Monday those signed up to the free My Home Life app will receive a message; it may be a thought, a top tip, an action or a question. The words in the messages have been developed from our learning across the four UK nations about what makes a difference to enhancing the quality of lives of those living, working and visiting care homes.
Continue Reading

The current edition of our practice update is out now – sign up for your free email update here.
This month, the email update features the new My Home Life app. You can now get weekly MHL messages – direct to your phone or mobile device.
Continue Reading