News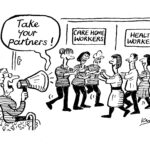 Dear Friends,
you've no doubt recently seen our new bulletin which focuses on the practical delivery of the Optimal research study. Optimal tells health colleagues that care homes are an integral part of the 'landscape of care' and that care homes should be seen as partners not problems. The study shows how care homes and NHS colleagues can work better together to improve the lives of older people living in care.
There are several ways to learn more about the study. Download the MHL Bulletin for free and receive top tips on improving relationships with your NHS colleagues, read about best practice example from care home managers who have created strong relationships with health and finally, learn more about the positive impacts of improved relationships with health services through Optimal's key findings.
The policy briefing of the Optimal Study has recently been published by the University of Hertfordshire and is available on their website to download for free https://medium.com/policyherts-reports/towards-better-healthcare-in-care-homes-2cf383dd7e4d
Lastly Optimal created a short film to showcase its key findings of the research https://youtu.be/bxgp8W-aPb8 . This short film is a fantastic resource to use with health colleagues when forging new relationships in your area.
Our latest email update is below – free to all – sign up on this page
"If one thing is certain it is that care homes operate with uncertainty and upheaval every day… we've got through it before, we can get through it again."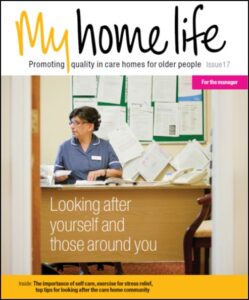 Dear friends,
Thank you so much for your tips on supporting managers and care home teams to take care of themselves at times of stress.
We've collected some of your advice into our new bulletin 'Looking after yourself and those around you', out now in Care Management Matters and on our website.
Hard copies available on request – email mhl@city.ac.uk or call us on +44 207 040 5776. Continue Reading
They say good things come in small packages and now the My Home Life bulletin is no exception!
Your July edition of Care Management Matters came with a newly sized-down MHL bulletin (to fit snugly with Care Management Matters' new size), filled with stories and thoughts on how to best support dignity for those living in your care home.This edition of our mini-magazine for the care sector was developed in partnership with the New Dynamics of Ageing programme, and shares the learning from one of their research projects, led by Dr Liz Lloyd.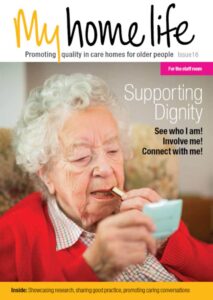 Where's my bulletin?
If you haven't received a copy of your My Home Life bulletin, please make sure you're signed up to receive Care Management Matters (free for care providers) or if you think you might have missed out on this one – get in touch – we've got some spares we can post to you.
The My Home Life team are delighted to announce the launch of our My Home Life newspaper. The paper is full of news from our March Retreat, interviews with care home staff and articles sharing best practice. Share your thoughts and comments with us below.
Admiral Nurse Angie Williams shares her experiences of dementia care after joining The Orders of St John Care Trust and implementing and evaluating the MHL framework.
Download: Admiral-nurses-in-dementia-care
This opinion article was published in Nursing & Residential Care, November 2012, Vol 14, No 11.
Care homes must not be "islands of the old" says new report
Care homes will play an ever-increasing role in supporting older people in the future yet are being held back by a culture of "negativity" and "stigma" felt by both care workers and older people. At the moment too many care homes lack engagement with their local community and lack support from health services and local authorities says the report.
Continue Reading
My Home Life were very excited to see their work be presented as part of the The Commission on Improving Dignity in Care public consultation on a report, which will form the basis of proposals for improvements in the delivery of care of older people in hospitals and care homes.
Continue Reading
2011 has been another great year for My Home Life, we have made significant contributions to the national debate on care homes and the UK wide movement continues to grow. We said goodbye to a valued and much loved advocate and look forward to some exciting times ahead in 2012.
Continue Reading