News
Kimberley Court Care Home in Cornwall, has been working on a project that looks at what to do with redundant spaces in care homes. Manager of the service Michelle, was inspired after reading about Rempods in The Express: http://www.express.co.uk/news/uk/674112/Scarlet-House-care-home-vintage-train-carriage-dementia-patients-RemPods
With encouragement from an area manager, and a successful application to the care home's legacy fund, Michelle was able to start work in the redundant spaces in her care home on what effectively has become a reminiscence zone.
Initially, the project involved meeting with residents to discuss what they'd like to see from the reminiscence zone. From there staff were involved in the consultation of the space, clearing-out the area, painting and the creation of the zone. As the project developed Michelle started reaching out to the wider community in Newquay via social media. Soon people, supplies, ideas and skills came flooding in. Many got involved by donating such as a local carpenter who donated furniture, a local brewery who generously gave drinks for the launch event and many individuals from the surrounding community who gave vintage items to support the theme of the zone. The home even secured a local celebrity in to open the zone, Josh Curnow, as seen on 'Britain's Got Talent'.
Now the zone is used daily as a venue for reminiscing; it provides talking points for visiting relatives residents; it is an area for recreational activities such as pool and darts, and for more vocational activities such as cooking and washing up in the vintage kitchen.
Michelle proudly shared her experience of the homes transformation, 'All our activities are meaningful and the street enables the staff to engage on another level with residents.'
Michelle regards this as the best thing she has done in her 25 years working in the social care sector. A supportive area manager and a company happy and able to provide funds were instrumental in enabling Michelle to realise her ambition. Michelle feels however that with only a little thought and imagination the lives of people with dementia can be drastically improved.
"Everyone has been so supportive and I'd like to thank my organisation for their continued support and the local companies who have been fantastic: Sharps Brewery, Wax Newquay, Sharon Rogers, The Little Bakery, and the Newquay community Facebook page have supported our vision for the street."
My Home Life extends its thanks to Michelle and her team at Kimberly Court for sharing their story with us. Well done!
For more information on the fantastic work being done at Kimberley court please contact them Phone 0800 731 2020.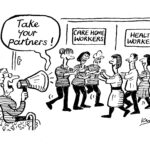 Dear Friends,
you've no doubt recently seen our new bulletin which focuses on the practical delivery of the Optimal research study. Optimal tells health colleagues that care homes are an integral part of the 'landscape of care' and that care homes should be seen as partners not problems. The study shows how care homes and NHS colleagues can work better together to improve the lives of older people living in care.
There are several ways to learn more about the study. Download the MHL Bulletin for free and receive top tips on improving relationships with your NHS colleagues, read about best practice example from care home managers who have created strong relationships with health and finally, learn more about the positive impacts of improved relationships with health services through Optimal's key findings.
The policy briefing of the Optimal Study has recently been published by the University of Hertfordshire and is available on their website to download for free https://medium.com/policyherts-reports/towards-better-healthcare-in-care-homes-2cf383dd7e4d
Lastly Optimal created a short film to showcase its key findings of the research https://youtu.be/bxgp8W-aPb8 . This short film is a fantastic resource to use with health colleagues when forging new relationships in your area.
How to make the most of mealtimes in care homes.
In our new bulletin we talk about food – everyones favourite subject. But, it is not just the food that makes mealtimes enjoyable. We asked care homes around the UK for their best practice tips for when it comes to creating a social mealtime, increasing appetites and involving residents, relatives and staff in decision making.
ALIVE IN ME – By Tudor Evans, Hengoed Park
I can still hear her singing
in her high, clear voice
humming around our house
two streets from the colliery,
riddling the ashes
from the stove in the scullery.
I can still feel his strong arms around me,
carrying me to the mine
to lie by the huge fan, 28 feet tall,
the lungs of the pit,
to cure my whooping cough.
My Mother, my father,
They're alive in me.
I see her young,
glossy hair marcel-waved,
in her yellow twin set with the nipped-in waist,
laughing, joy blazing out
like a firework flaring
I remember him at my bedside
His big hands placing the candles,
To drive my nightmares away.
Still keeping me safe, they're alive in me.
Writing 'Alive in Me.'
Deb Llewellyn, creative writer, told us about how she worked with Tudor to create the poem 'Alive in me.'
"For the last two years I have worked as a Writer in Residence for Age Cymru, in two care homes in the Swansea Valley. I listen to the residents and work collaboratively with them to form their words into poems – sometimes based on stories and memories, sometimes in response to stimuli such as paintings, photographs and objects.
It was in Hengoed Court, Swansea that I met Tudor Evans, and it was a privilege to write this poem with him. We wrote it over the course of several individual sessions. Tudor shared his memories with me of growing up in the mining town of Grovesend near Pontarddulais. His father was a miner and we spoke at length about his work.
As a young boy, Tudor caught whooping cough and his parents feared for his life. One night Tudor was struggling for breath, and in desperation, his father carried him to the enormous fan which circulated air throughout the pit. He believed that being in this strong air current would allow Tudor to breathe. It worked, and Tudor recovered. The vivid childhood memories that Tudor has of his parents form the core of this poem. Writing it was his act of tribute to them."
A story from Slieve na Mon Nursing Home in Northern Ireland has been featured by the BBC – telling a tale of a family being supported through their father's death.
The item, from a care home whose manager recently completed the My Home Life Leadership Support programme, tells the story of the McHugh family.
We're delighted to see such a wonderful story in the press about the brilliant end of life care provided by the nursing home – not only for Mr McHugh himself, but for his whole family. It's a testament to them that the family felt so moved they wanted to share their story with the world.
You can hear the interview on BBC Radio Ulster.
And read 'How can we wake our father in a nursing home?' on the BBC News website.
My Home Life were very excited to see their work be presented as part of the The Commission on Improving Dignity in Care public consultation on a report, which will form the basis of proposals for improvements in the delivery of care of older people in hospitals and care homes.
Continue Reading
On 15th September 2011, the Government launched Caring for our future: shared ambitions for care and support – an engagement with people who use care and support services, carers, local councils, care providers, and the voluntary sector about the priorities for improving care and support.
Continue Reading
An Early Day Motion (EDM 1588) has been put forward by Timothy Farron MP calling on the Government to take note of the evidence-based recommendations of My Home Life in drawing up new minimum standards for care homes.
At the time of writing, 75 MPs have supported the EDM. The My Home Life team will continue lobbying the Government for greater support for care homes.