Supporting Dignity – new bulletin OUT NOW
They say good things come in small packages and now the My Home Life bulletin is no exception!
Your July edition of Care Management Matters came with a newly sized-down MHL bulletin (to fit snugly with Care Management Matters' new size), filled with stories and thoughts on how to best support dignity for those living in your care home.This edition of our mini-magazine for the care sector was developed in partnership with the New Dynamics of Ageing programme, and shares the learning from one of their research projects, led by Dr Liz Lloyd.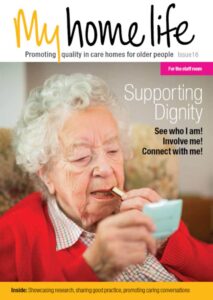 Where's my bulletin?
If you haven't received a copy of your My Home Life bulletin, please make sure you're signed up to receive Care Management Matters (free for care providers) or if you think you might have missed out on this one – get in touch – we've got some spares we can post to you.