New MHL bulletin in the January practice update
Our latest email update is below – free to all – sign up on this page
"If one thing is certain it is that care homes operate with uncertainty and upheaval every day… we've got through it before, we can get through it again."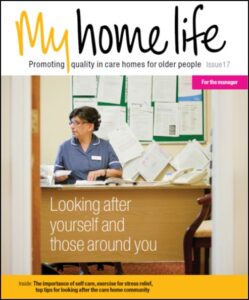 Dear friends,
Thank you so much for your tips on supporting managers and care home teams to take care of themselves at times of stress.
We've collected some of your advice into our new bulletin 'Looking after yourself and those around you', out now in Care Management Matters and on our website.
Hard copies available on request – email mhl@city.ac.uk or call us on +44 207 040 5776.
And how about some good news about care homes and My Home Life in the press for the New Year? The BBC have featured a wonderful story of the McHugh family and Slieve Na Mon nursing home in Northern Ireland – you can read it here.
Best wishes,
The My Home Life Team
P.S. With Valentine's Day around the corner, how about sharing stories from your staff and residents about memories of romance – perhaps their first crush or date? We'd love to hear them!