Issue #21 of the My Home Life magazine is out now!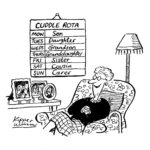 Quality of life: Its the little things that matter most
Download your FREE copy here.
In this issue we catch up with the growing My Home Life movement from around the world, we remember the 'little things' in life that cost nothing but make the biggest difference and we hear about the important research that underpins the vital work you do.
As a social movement we love hearing about all the great things that you do so please keep sending in your selfies, photos, and stories.
Call or email us: mhl@city.ac.uk  –  0207 040 5776