Blog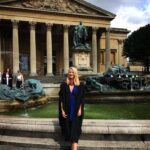 Student Hubs is a national organisation which supports students to tackle social challenges, learn about issues and connect with each other. The Bristol Hub, which supports the students of the University of Bristol, has been collaborating with My Home Life as they work towards creating stronger relationships with care homes in the south west of England. Bristol Hub has created the Linkages initiative which aims to encourage intergenerational relationships between students and care home residents. This then allows older and younger people to share their stories and time with each other. This has proved to be hugely beneficial for both age groups involved. University of Bristol and Bristol Hub's volunteer, Kerri, spoke to MHL about their work.
Kerri Warne has written about her experiences of working with older people living in care homes through the Bristol Hub and why it's so important to get involved:
"In the third and final year of my degree at the University of Bristol I decided to make full use of the wealth of volunteering opportunities available to me. I have always been interested in volunteering in care homes and social isolation amongst older people is an issue that particularly concerns me. As the world becomes more reliant on technology, and the importance of face-face communication seems to dwindle, many older people feel disconnected and lonely.
LinkAges is a scheme that forms part of the Bristol Student Hub network. The volunteering programme aims to tackle social isolation amongst older people living in care homes. Student Hubs on a national level work with local care homes to partner University students with residents who would like a visitor. This scheme has created a mutually beneficial opportunity for both students and residents. There are a variety of projects for students to get involved with, Student Skills Swap, one-to-one visits, and IT assisted sessions to name a few.
I decided to sign up to LinkAges and I now visit the Garden House care home at St Monica Trust once a week to spend an hour or so with a resident. In this time westart getting to know each other, discussing hobbies and interests as well as taking part in any activities that the resident would like to get involved in. The whole experience is great, it's very easy and the care home staff are incredibly helpful and welcoming.
Being a LinkAges volunteer was especially important to me during the revision period and it was always very refreshing to spend time out of the University bubble. Volunteering has widened my perspective and I have learnt how to adapt my communication skills to the different and changing needs of the residents. I have gained confidence in forming new relationships with older people, but overall, I have enjoyed spending time in the care home. I get to listen to interesting stories about the residents' lives and my eyes have been opened up to a completely different lifestyle to my own.
I urge all of you to try something new today, give a small portion of your time to older people living in care homes. There's never been a better time to get involved"
Thanks to Bristol Student Hub and Kerri Warne for the creation of this blog.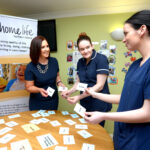 The Research and Teaching Fellow at Ulster University, Sarah Penney, has been sharing her delight at winning the 'Learning in Practice Award' at the Nurse of the Year Awards 2017, hosted by the Northern Ireland (NI) Royal College of Nursing.
These awards provide the opportunity to highlight excellence within nursing in NI and the contribution that nurses make to the health and well-being of the people of NI. The prestigious event was held at the Belfast Culloden hotel, where many health and social care professionals came along to the awards, celebrating and sharing in the successes and outstanding achievements of NI nurses.
Sarah Penney, who is a NI representative for My Home Life, achieved the 'Learning in practice' award for working with Care Home's focussing on their leadership skills in order to improve the quality of life for older people living in these settings.
In fostering positive relationships with Care home's and their proprietors, Sarah managed to have care home managers released to attend a leadership development programme, where staff benefited from monthly action learning sets and practice development workshops. The programme created strength and resilience in the care home managers and improved their leadership skills overall.
The success of the programme also led to further work under the practice development strand. Initiatives such as revision of the pre-admission assessment protocol and the production of a short film promoting best practice was also achieved. Additionally, Sarah's work and experience, coupled with the dedication and enthusiasm of the care home managers, enhanced their understanding of the need to maintain the dignity and individual identity of patients with end-stage dementia and/or severe communication difficulties. Sarah also facilitated the direct involvement of patients in decisions about their care.
MHL would like to congratulate Sarah in her wonderful win and to thank her for her continued passion and dedication to her work.
I remember talking to one of our prospective residents at one of our care homes telling me about her "life of ever decreasing boxes" as she put it.
From a large family property to a downsized house once her children had left home, then to a small warden controlled flat and now to one room in a care home.  The prospect was not an attractive one – she then mentioned her final box as she departed for where ever we go next!  Whilst she was not sad about this it did carry some pathos and one we care home owners must heed in how it feels to come into 24/7 care, 'when the time is right', as I am prone to say.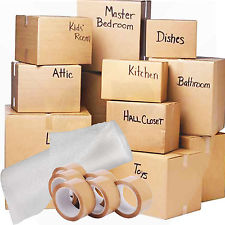 We have just marked National Dignity Day on the 1st February in our homes with some really relevant, entertaining and powerful points being made by residents, staff and visitors.  The words mentioned in our conversations included Choice, Privacy, Respect, Rights, Control and Empowerment, and all of these we feel can be regarded as key messages underpinning how we ensure that the 'inner sanctum' of a residents bedroom looks and feels just right for the person moving in.
I believe it is one example of how partnerships between the person moving in, their families and their loved ones working with us must combine wants and needs to create a familiar, safe and idiosyncratic expression of who they are with perhaps treasured memories and possessions.  We will always encourage people to bring special items of furniture (if space permits), photographs and ornaments too.  Colour and clutter we like, with a principle of being age appropriate as well as risk free being considerations of course.
The point about space can be an issue; in our older homes we don't have standardised room sizes – we will always argue that homely homes need character and without these variations we teeter on institutionalised care in purpose built units often designed for upward of 60 residents – which I will always be sceptical in terms of how homely these industrial style care settings can be. The balance between what a person is used to needs in later life may also need special consideration. The combination of homely versus perhaps a swish hotel like environment and the impact these can have on comfort and atmosphere is also important to discuss.  We will always aspire to balance appropriate expectations with the views of others, crucially to get their new home right for the person now living with us.
When a person is coming into a care home to live we want to see it as just that – a place to live.
Some of our folk prefer to spend lots of time in their room watching TV, reading, doing puzzles, resting, or entertaining as many do – others will leave their bedroom early in the morning and return late at night after a day spent in communal areas busying in a more social way.  You may see some rather spartan rooms as much as those full of reminiscent relics of a full and adventurous lives.  Much of this will come down to how able families are to help provide content for their loved ones.  Our part is to do all we can to encourage personalised rooms befitting the person staying with us.  We must also recognise changing needs including how we store essential items like creams, toiletries and, for many, personal care items such as continence pads for those that need them – dignity must always be protected – we must also take account of mobility aids and potential needs changing such as when a high low bed may be required for assistance getting in and out of bed if a person becomes less able.
Overall the transition from a person's own private home to a shared environment of a care home has a huge emotional impact on all involved.
Moving to a care home is often an unplanned event following a hospital admission or after health care decline or event. Older people should be open to this possibility, we would claim, and families too.  Moving into a dynamic, progressive, safe and fun care home when the time is right is something should be something we look forward to!
Many thanks to George Coxon, Care Home Owner – Pottles Court and Summercourt, Devon.
Opening Doors.
Sometimes you have those moments in your work that really affirm why you do what you do.  Those moments that really touch and stay with you; when you realise you are making a difference to people's lives, even if in a very small way.
At Alive!, my work involves bringing older and younger people together.  It's about opening doors, opening care homes to the wider community, allowing connection and communication across the generations.  Our elders have so much to give and share; their opinions, their joy, their experiences, sometimes their sorrow.  As a society we have a tendency to exclude our elders.  We wrongly assume once they reach a certain age, or a stage on their dementia journey they have nothing to give – or are unable to give.  We can close them off, almost shut them away and stop listening.
But bringing old and young together through Intergenerational School Projects has been a positive way of beginning to break down these barriers; of opening up understanding between the generations; of bringing community in to share with elders and enabling older people to show their talents and be cherished. Through our intergenerational Project "Paint Pals", we have been linking up schools and care homes to exchange paintings and to meet up to paint together over an academic year.
One of my new projects this year has been between a school and care home in Bristol. The school and care home are neighbours and share a fence – whoever built it actually put a gate in between them, but it has stayed locked, – until now.
Watching the children involved in this Paint Pals project come through the opened gate from their school to the care home, to spend an hour painting with the elders was one of my "magic moments".
Seeing the gate finally being opened and the smiles on the children's and elders faces on meeting their Paint Pals, witnessing their small moments of connection.  The eye contact, the smile, the touch of a hand.  The word of encouragement from old and young, the admiration and sharing of each other's work. Sometimes just being together in silence, being in the moment, engrossed in their paintings. 
It's just a start. A small start.  The children and elders will continue to meet up and share this year.  But we need more moments like this, in more care homes and schools to ensure more gates will be unlocked and old and young can come together and connect in such a positive, meaningful and creative way.
Many thanks to Isobel Jones Business Development Manager, Alive!
Imagine my concerns when during a monthly team meeting it became apparent that my team felt that their ideas and worries were not acted on.
The process we had in place to collect staff views was to feed them into the melting pot at staff meetings. But it became was clear to me only things that we had time to pick up or deemed as urgent were being actioned. On day two of the My Home Life Leadership Programme we learnt of the six sense framework, it made me think about how my team must have been feeling about their wishes and concerns not being acknowledged.
I said to myself, "Sarah, what does a deputy manager do?" I needed to give a clear structure to capturing staff comments and to have a team that knew who to report to and receive feedback from.
We have captured fantastic ideas such as care assistants with hobbies that can be transferred into activities and new ways of working to steer away from task orientated days. Another great aspect of this is that these lines of communication have become our supervision lines.
Overall this has allowed us to become more relationship centred as a home and united as a team, who are passionate, caring and devoted to the resident and service we provide! Creating a visual tool for colleagues to appreciate the structure and flow of our home and support system has helped everyone.
As a bonus it also acts as clear evidence that inspectors and support services look for when entering our residents home.
Many thanks to Sarah Clarke Deputy Home Manager, Buckinghamshire for sharing her experience with us.
Kindness is the most important attribute.
We recently advertised a new post for an Activities Coordinator. One of our residents, Bella Watkins was asked if she would like to sit on the interview panel, she was delighted to be asked and agreed straight away!
Bella received a copy of the interview questions prior to the interview, she gave them back to us stating the font was too small! So we changed them to suit her needs.
The evening prior to the interview, Bella asked staff to help her choose her 'power clothes' for the interview and spoke with the staff informing them exactly what she was looking for in a candidate. Kindness was the most important attribute she told us.
Bella was up at 7am on the day of the interviews, she instructed the staff on the style she wanted her hair. An additional member of care staff assisted Bella getting dressed whilst another attended to her make-up and choice of scent. After the 'team' had worked on Bella she was ready, confident and prepared!
When the interview started Bella asked the candidates about their intentions for activities in the home, she told them what she liked to do during the day and her expectations of them. 'We don't just want War music and Bingo" she said.
The successful candidate told us afterwards that it was great to be given the opportunity to ask at interview what activities the residents would like to take part in. She looked forward to working with Bella to plan and facilitate activities.
This experience enabled Bella to be a part of the decision process within her home and enable her to have a voice. Bella commented, "I've always been a good judge of character" She certainly is!
Thank you to Nathan Corfield, Spring Gardens Residential Home.
I saw my Aunt's frown disappear!
Around five years after my aunt was diagnosed with dementia, I gave the social worker the go-ahead to look for a care home, he told me about a very good one, fairly local to where my aunt was living and run by the faith community that she was an active member of.
We were invited for a visit and to have lunch at the care home and on the day my aunt was made to feel very welcomed and very special. She got to try out the hair salon, we had lunch with home manager and we took part in some of the afternoon's activities. I saw my aunt enjoy herself and be so obviously stimulated in a way that was not happening day-to-day. The warmth of the staff gave me some reassurance, but best of all I saw my aunt's frown disappear for the first time in ages. She just glowed! As far as I was concerned there was no question about my aunt staying there – the transformation in her in that short period was remarkable.
She had gone from being dispirited and often withdrawn to being far more conversational, stimulated and engaging. She had already started to charm many of the staff with her cheerful, kind and thoughtful nature.
I maintained my visiting routines as I had done whilst she was at home, we carried on talking about the things we always talked about and I made sure that her room was filled up with lots of familiar things.
In the last few months of her life when she was barely eating, the staff would sit patiently with her for as long as it took to with a few spoons of custard and cake. The looked after her and met her every need without hesitation and always made me feel welcome and included in her care. I was always contacted in a timely manner when there were any concerns and whenever I visited I was given all her paperwork to read through and discuss.
On the day that my aunt died, I was called to be with her, her last hours were peaceful and dignified. When she died in my arms the staff came to pay their respects and attended to her body with great care. I was given the office phone to call relatives around the world. As many as could came to her funeral and they all came to prayers and tea at the care home afterwards.
I will never be able to thank the staff at that care home for all they did to make my aunt's last 16 months so fulfilled.
Thank you to Mary Hardcastle for sharing your story.
I'm the Chief Operating Officer of The Fed– a social care charity which runs many community projects for people of all ages and large residential and nursing home for older people.
We took over the home in 2009 and it was clear that the building needed an upgrade. It was a typical 1970's building, which had been through lots of small redevelopments over the years. The layout was confusing; there were long corridors and little choice for residents about where to spend their time. It was a particularly poor environment for people with dementia.
Early on we started to look at what we could change, and how. We consulted residents, their families and the wider community, not only about the building, but residential care more broadly. Continue Reading
Susan Yates is the manager at Dial House in Bedford, a family-run nursing home for 50 residents.
Since I finished the My Home Life programme in 2012 the group of managers I was with on it has depleted – some have just moved away from the area, and others have left care completely. I missed the times we had together, talking about our shared issues and working through ideas to make things better. We had also had a really positive session with the local hospital about working on the admissions process – but this has since gone quiet.
I decided to offer a chance up to the managers in the area – and those from my My Home Life group who were still around– to meet for a managers' forum. My home has got a second lounge which is great for meetings – and at the moment everything is going well with my staff and the home so I felt I had a little time I could give to this kind of project.