Blog
Heavy snow, icy roads, and school closures were the outcomes of last week's storm Emma combined with the Beast from the East. One care home group from Derbyshire met the chilly challenge head on with fantastic outcomes.
Sarah Dixon, community relations manager for Ashmere Derbyshire Ltd explained, "Local schools were closed suddenly on the Thursday, with news of their closure extending across Derbyshire to Friday. Those people with children will know, it was the week after half term and we knew that our staff would struggle to take time off and get family cover at such short notice".
Ensuring there was enough staff  for each shift was going to be tough, carers were struggling to get into work because they had no child care. Sarah thought on her feet and came up with a fantastic solution, "We simply offered staff the opportunity to bring their children to work". Ashmere's quick and creative thinking provided carers with a fantastic solution to their child care problems, allowing them to relax into their day's work.
Christine Blacknell Dementia Services Manager said, "It was a great idea to invite our carers children into our homes, especially at a time of need for our staff. Both the residents and children all benefited from the days interactions".
Eileen, aged 82 is a resident at West Hallam Care Home, she shared her delight at spending time with her surprise visitors, "The children were brilliant, very well behaved and we made some lovely cakes, I enjoyed decorating cakes with the children. I made 3 cakes, one for my Son, one for my Daughter and one for my Granddaughter. I asked the children if they would come again to which they replied, yes"!
The day was hailed such a success, that Ashmere are developing plans for more frequent intergenerational contact for their residents. Ashmere through their quick thinking avoided catastrophe and created a fun, stress free working environment for all involved, well done!
Last week, health care staff across the UK were rightly celebrated nationally for braving the snow and ice to ensure all patients got access to the health care services they needed. Yet, My Home Life noticed little fuss was made about the thousands of carers who made the treacherous journeys into work to get to the people they support, therefore we'd like to say thank you for your dedication, it doesn't go unnoticed.
Many thank you to Ashmere Derbyshire Ltd for creating this blog and providing the photography.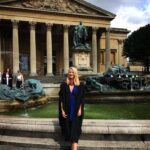 Student Hubs is a national organisation which supports students to tackle social challenges, learn about issues and connect with each other. The Bristol Hub, which supports the students of the University of Bristol, has been collaborating with My Home Life as they work towards creating stronger relationships with care homes in the south west of England. Bristol Hub has created the Linkages initiative which aims to encourage intergenerational relationships between students and care home residents. This then allows older and younger people to share their stories and time with each other. This has proved to be hugely beneficial for both age groups involved. University of Bristol and Bristol Hub's volunteer, Kerri, spoke to MHL about their work.
Kerri Warne has written about her experiences of working with older people living in care homes through the Bristol Hub and why it's so important to get involved:
"In the third and final year of my degree at the University of Bristol I decided to make full use of the wealth of volunteering opportunities available to me. I have always been interested in volunteering in care homes and social isolation amongst older people is an issue that particularly concerns me. As the world becomes more reliant on technology, and the importance of face-face communication seems to dwindle, many older people feel disconnected and lonely.
LinkAges is a scheme that forms part of the Bristol Student Hub network. The volunteering programme aims to tackle social isolation amongst older people living in care homes. Student Hubs on a national level work with local care homes to partner University students with residents who would like a visitor. This scheme has created a mutually beneficial opportunity for both students and residents. There are a variety of projects for students to get involved with, Student Skills Swap, one-to-one visits, and IT assisted sessions to name a few.
I decided to sign up to LinkAges and I now visit the Garden House care home at St Monica Trust once a week to spend an hour or so with a resident. In this time westart getting to know each other, discussing hobbies and interests as well as taking part in any activities that the resident would like to get involved in. The whole experience is great, it's very easy and the care home staff are incredibly helpful and welcoming.
Being a LinkAges volunteer was especially important to me during the revision period and it was always very refreshing to spend time out of the University bubble. Volunteering has widened my perspective and I have learnt how to adapt my communication skills to the different and changing needs of the residents. I have gained confidence in forming new relationships with older people, but overall, I have enjoyed spending time in the care home. I get to listen to interesting stories about the residents' lives and my eyes have been opened up to a completely different lifestyle to my own.
I urge all of you to try something new today, give a small portion of your time to older people living in care homes. There's never been a better time to get involved"
Thanks to Bristol Student Hub and Kerri Warne for the creation of this blog.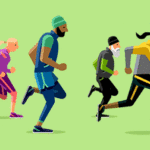 Llys Hafren is a residential Care Home in Wales and My Home Life have been in touch with them to find out how their community engagement work has achieved so much success in the last year.
Llys Hafren is making it their mission to change people's understanding of what older people can do. As a support worker at Llys Hafren, Charlie highlights: "A general misconception of older people living in care homes is that they can't look after themselves, can't participate in activities, and can't go out into the community, but that's definitely not the case for every resident."
For the last nine months Llys Hafren have been working with their local volunteer hub connecting residents with clubs, groups and individuals who are based in the community. "We simply contacted our local volunteer hub and asked them to assist us in finding interested parties to connect with our residents and it all went from there". It has proven to be an innovative decision and life changing for the residents, as Charlie explains:
"Before a resident comes to us we go out and assess their needs, this includes their likes, dislikes and hobbies. It was during this assessment that the relatives of a particular gentleman shared that it was important for him to run regularly. Not many of us would associate sport with older people living in care homes and yet, for one resident, it's been a life long love". Llys Hafren worked with the volunteer hub to find out how together they could keep their resident's passion for running alive, whilst continuing to keep them safe and ensure their needs are met.
So how do you ensure the safety and wellbeing of an older person in this scenario? Charlie explains: "When reflecting on how to meet the needs of this particular resident, one of our Alzheimer's Society's Dementia Friends facilitators, who is also part of the local volunteers hub, suggested we contact our community running club. The running club were more than happy to support the resident joining the group." However, before the resident began running, a representative from the running club came to visit the resident and met with the care home's manager and staff so they could establish how, along with the resident's family, they could practically facilitate the resident's passion for running. Due to the hard work and dedication from the home and the running group, the resident enjoys runs of up to half an hour, every week. The home feels that this activity keeps the resident feeling contented, physically enabled, and offers continuity from their life before they moved into Llys Hafren care home.
Why not ask your local volunteer hubs what they can offer your care home?
My Home Life extends its thanks to Llys Hafren care home, its residents and Charlie for putting together this blog.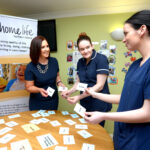 The Research and Teaching Fellow at Ulster University, Sarah Penney, has been sharing her delight at winning the 'Learning in Practice Award' at the Nurse of the Year Awards 2017, hosted by the Northern Ireland (NI) Royal College of Nursing.
These awards provide the opportunity to highlight excellence within nursing in NI and the contribution that nurses make to the health and well-being of the people of NI. The prestigious event was held at the Belfast Culloden hotel, where many health and social care professionals came along to the awards, celebrating and sharing in the successes and outstanding achievements of NI nurses.
Sarah Penney, who is a NI representative for My Home Life, achieved the 'Learning in practice' award for working with Care Home's focussing on their leadership skills in order to improve the quality of life for older people living in these settings.
In fostering positive relationships with Care home's and their proprietors, Sarah managed to have care home managers released to attend a leadership development programme, where staff benefited from monthly action learning sets and practice development workshops. The programme created strength and resilience in the care home managers and improved their leadership skills overall.
The success of the programme also led to further work under the practice development strand. Initiatives such as revision of the pre-admission assessment protocol and the production of a short film promoting best practice was also achieved. Additionally, Sarah's work and experience, coupled with the dedication and enthusiasm of the care home managers, enhanced their understanding of the need to maintain the dignity and individual identity of patients with end-stage dementia and/or severe communication difficulties. Sarah also facilitated the direct involvement of patients in decisions about their care.
MHL would like to congratulate Sarah in her wonderful win and to thank her for her continued passion and dedication to her work.
Blakesley House Nursing home have been working on improving their End of Life (EoL) services for residents. Throughout their strive to be better, they've achieved recognition for the second time from the Gold Standard Framework (GSF) Hallmark and have received the GSF Platinum award 2017-2020. Blakesley are among 20 care homes from across England to win this prestigious award from the National GSF centre.
Karen Agbuya has worked for Blakesley house since 2015 and spoke with My Home Life (MHL) about her journey as a care assistant working with older people.
Karen has worked with many residents facing end of life, she thinks it's important to support people to have a 'Good Death'."For me the experience of a resident passing away is always an emotional and personal one".
Karen explained to MHL that Blakesley House has worked hard to change and improve their offer of support to residents who are at the end of their life. "The most significant change to our practice was to have more 'conversations'. Talking with a resident about what they'd like at the end of their life is important to them and, to me as a carer. By having these conversations sensitively (and there is likely more than one) and, early on, it allows residents to feel heard, settled and comforted that all has been taken care of.
Karen explained that Blakesley House use Advanced Care Planning (ACP) techniques to capture their residents plan for EoL, she said "advanced care planning avoids confusion if a resident becomes ill quickly and perhaps is unable to communicate their wishes to us". In speaking with Karen her passion around supporting people facing EoL was impressive. Her honesty when talking about residents advanced care planning was refreshing to hear. "Conversations with older people around death and dying is never easy, but by having them its often a relief for residents. To know everything is done and planned for, is a big comfort to them".
Some positive experiences Karen's shared with residents at the end of their lives have been, "Seeing a resident's ACP through, has created a sense of calm in their final hours. Some ACP's have requested things such as having a bath. Residents in their final hours have found bathing to be a relief from pain and discomfort. I've also provided things such as, fresh linen, made sure the resident is comfortable and dressed to their liking. I've applied makeup to ladies before as it's important to them to look nice, I've also been asked to provide music, this often plays in the background in someone's final hours, and we've been told by residents this offers them a feeling of peace and comfort at the end. Key in our minds is keeping people comforted and cared for".
Margret Lane Manager and owner of Blakesley House expressed her delight that her team won the GSF award and is proud of their continued passion to learn, reflect and improve. MHL asked Margret, what was the single most important thing she changed that cost nothing? Margret replied "encouraging teamwork in the home has had the biggest impact to our overall service. This dynamic, safe environment developed by the team, has created a supportive space for all the staff to grow and improve, and all of this directly improves the overall experience for the resident.
MHL feels it's important to recognise that supporting older people living in care homes at the end of their lives is something health and social care professionals do every day, proudly, compassionately, quietly and without fuss. We would therefore like to thank them, and congratulate Blakesley House on winning their award and striving for continued improvement. Well done.
Our thanks goes out to Blakesley House Nursing home for taking the time to speak to My Home Life about their experiences.
Wales has been creating magic with older people living in care homes by using the arts as a platform for engagement and meaningful activity. The cARTrefu project has been supported by My Home Life Cymru to provide training for the artists involved.  David Cutler, Director of the Baring Foundation has created a Blog explaining the work that has taken place and why its being further developed in Wales as a key resource for older people.
Click the link below to find out more.
http://baringfoundation.org.uk/blog/welsh-magic-whats-behind-the-magnificent-work-taking-place-in-arts-with-older-people-in-wales/